Do the Dew, HoneyDew!
How does an all natural, eco friendly, 100% wind powered green e-certified Deep Steep product sound? Super delicious if you ask me, and with a whiff of their honeydew scented products, you'll want to drench yourself from head to toe and take a big bite out of savings!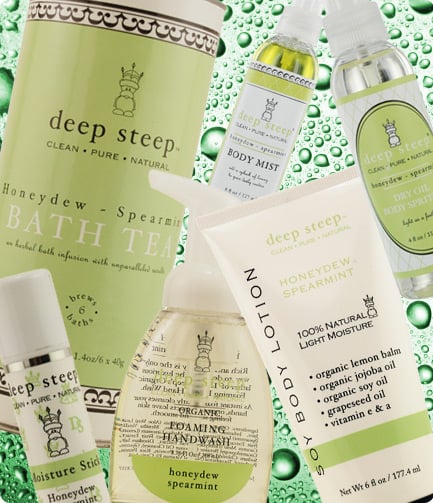 From their bath tea to their body mist, to their dry oil body spray and honey dew spearmint moisturizer, I can't tell you how much I have fallen in love with Deep Steep products. They are clean, they're pure, they're natural, but more and most importantly, they smell ah-mazing.
Not one for mist sprays or moisturizers? They have this lovely honeydew spearmint foaming hand wash that will do just fine for you! Have dry lips? Maybe you just want to keep them pleasantly plump? You can enjoy a simple moisture treatment with Deep Steep's Moisture Stick, a tasty treat for your lips, body, hands, and more!
I highly suggest you check out this line, not only do they have this yummy scent but they have a ton other fragrances too! Lavender chamomile anyone? Or Rosemary mint? It doesn't stop there…there is so much more! See for yourself! Happy shopping :)