On the Desk of...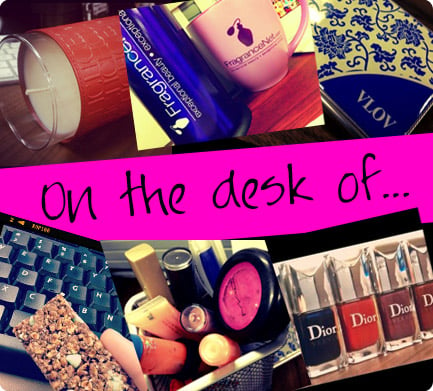 Isn't it fun getting to know us? Get to know moi, FragranceNet.com's social media coordinator a little better by learning what's on my desk!
Besides being a social media junkie, brushing up on the latest beauty and fashion trends all day, planning social posts, Tweets, and blog posts, take a peek at what's on my desk at FragranceNet.com!
Besides the fragrances you see on our Instagram feed (you can follow us at FragranceNet), tons of lip glosses, papers, and fun snacks can be found on this chicks desk. As much of a beauty lover as I am, I'm a foodie lover too; I've got a drawer dedicated for all of my fave goodies, right now it's chocolate Chewy bars with mint chips in it, (pictured above). Not only am I mint color and flavor obsessed, but I sometimes love to match my nails to my fave food obsessions. Anyone else lovin' the minty green trend too?
I try to follow my beauty advice most of the time, so when I post on Facebook that water is ideal for a clear complexion, I try to take that advice of drinkin' up! Check out my neat FragranceNet.com mug and water bottle!
My VLOV business card holder, cuz a girl's gotta be professional right?! I got this pretty sweet cardholder as a gift at a fashion show at last New York Fashion Week! I love the blue vintage pattern, don't you?
Try to find a pen in my pen holder…I dare ya! I literally have more lip glosses, lipsticks, and lip stains in my pen holder than pens, truth! If you keep up with the Eau Talk blog, you will know of my lip gloss obsession and can see that it is completely and 100% true.
What else is on my desk? I've got tons of fashion newspapers and magazines, antibacterial gels, lunch menus (of course) and my purse, with tons more of…lip gloss. Not to mention the huge rings or accessories I try to wear but end up taking off to type the day away, post it notes, notepads, paper, and pens.
Want to know what's on the desk of our creative director next? LIKE our post on Facebook and leave a comment letting us know!