DEMETER – GINGERALE
Demeter are in the business of manufacturing 'singular scents', recording 'everyday smells' with astonishing precision. The Demeter scent library has literally hundreds of scents to its credit... everything from Fresh Baked Bread, Cut Grass, Dirt, Thunder Storms and Pina Coladas can be found there, all the way through to Turpentine, Beetroot and Creme Brulee. One of the most interesting, to my nose at least... is the sparkling effervescence of Gingerale.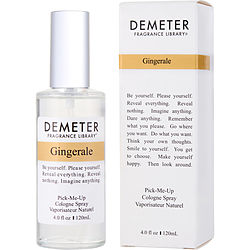 Gingerale is a staggering olfactory impression of this famous carbonated drink. It tingles in the nose with a familiar gingery dryness. Packed with rich clove and zesty lime, this is an appealing feel-good fragrance that has done well in turning heads (in a good way of course). It sits well on skin, but does tend to taper off quite swiftly and disappear within a couple of hours. Still, at about $20 for a 4 oz bottle, it really does provide exceptionally good bang for your buck!
Gingerale is just one of many Demeter creations to explore and marvel over... and if carbonated drinks aren't your thing, then you could always try Waffle, Salt Air or Paperback... just for something different.