Color Coded: RED
Did you know that the color red is the color of passion and courage? It also symbolizes or can relate to speed (think red cars), deliciousness (think apples and strawberries) and it also can relate to love, like our love for these color coded red scents.
We gathered up our top red scents that get us going, whether it's their sweetness, like DKNY's Red Delicious or the sophisticated, extravagant scent bursting with rich and exotic red roses in Elizabeth Arden's Red Door…we suggest you read on for more red.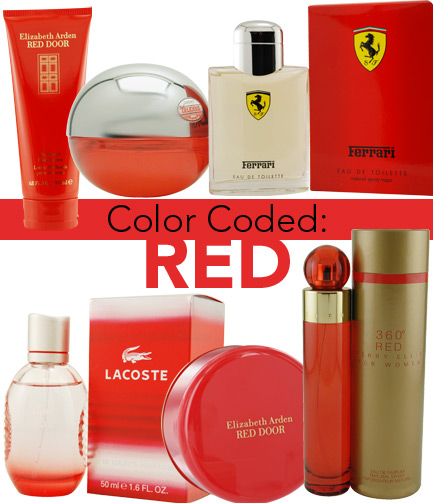 If you're seeking a passionately extravagant scent bursting with rich and exotic red roses, orchids, honey and spice, look no further than Elizabeth Arden's Red Door for women.
DKNY Red Delicious by Donna Karan is the perfect women's perfume for casual wear. Introduced in 2006, this eau de parfum contains notes of vanilla bean, red raspberry, patchouli, rose, champagne, and lychee, which all work together to produce a beautifully unique fragrance that is sure to accent your stylish nature. Want your guy to match with your scent? Pick up a DKNY Red Delicious for men, this one contains notes of cardamom, orchid, bergamot, cognac, rum, moss, saffron, vanilla, apple liqueur, davana, sandalwood, mandarin, ozone, and coffee absolute.
For a masculine scent that boasts a fresh woods scent that will bring out the nature lover in any man, Ferrari Red Cologne is the scent for him! Ferrari Red was introduced in 1996 and has since become a signature scent for many men.
With a masculine mixture of patchouli, jasmine, and green apple, combined with a subtle blend of cedar leaves, white musk vetiver and woods, Lacoste Red Style In Play cologne by Lacoste is the perfect companion to your day.
For women who want to make an impression that lasts, Perry Ellis 360 Red by Perry Ellis for women is a lovely fragrance that sets the right tone. This moderate, flowery scent has a rich, intriguing character that works wonders for romantic occasions. We also carry the cologne for men, a timeless, appealing, and refreshing daytime fragrance with a medley of citrus fruits, cinnamon, exotic spices, lavender, fragrant woods, oakmoss and musk notes.
Which red scents can't you get enough of?