CHRISTIAN DIOR - HOMME COLOGNE (NEW)
Dior Homme Cologne is the latest of a growing number of flanking fragrances of the highly successful Dior Homme, launched in 2005. The Cologne version, (released in 2013) embraces all the traditions of classic eau de colognes, but teleports them forward into today. A satisfying citrus / aromatic blend, Dior Homme Cologne feels fresh and to-the-minute.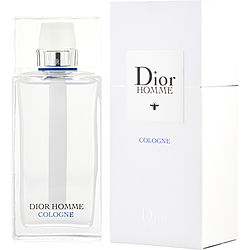 Acclaimed nose Francois Demanchy has formulated this scent which is simple and sophisticated. It opens with Calabrian bergamot which is pulpy and zesty and causes your saliva glands to tingle. A deeper citrus heart of grapefruit blossom gives the cologne a warmer, sunnier nucleus, and the sum of these components wash over a profoundly clean, musky base.
Dior Homme Cologne is perhaps best enjoyed worn day or night with a crisp white cotton shirt. Whilst it has been marketed to men, I don't see why this scent couldn't be enjoyed by women, as it has all the hallmarks of a genderless creation intended to be worn with abandon.