BURBERRY – LONDON (For him)
I say! Burberry London for Men is distinctly British in style. When it is first applied, one is overwhelmed with velvety rich black tea accords... but these are simply phantom notes because tea does not actually appear in the fragrance pyramid! Instead, a carefully measured blend of bergamot, cinnamon, pepper and port set the wheels in motion... it is a warm, embracing scent that bursts with woody, leathery notes. A huff of lavender does well to soften the composition and ensures the dry woods do not dominate. Tobacco, leather and opoponax provide a rich, warm background for this unique and satisfying masculine.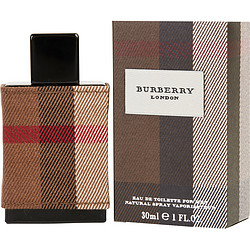 The flacon is wrapped in a swatch of the iconic Burberry tartan, which gives a hint as to when the best time is for one to enjoy this fragrance... it is perhaps best worn during the cold weather, whilst wrapped in cashmere scarves and wool jackets. Its very composition lends itself to feelings of warmth and coziness.
Burberry London for Men has impressive longevity and remains on skin for the better part of an entire day. It is refined and classy... just like the gentry, as the British might have us believe!