BOTTEGA VENETA – BOTTEGA VENETA
Although Italian luxury house Bottega Veneta has been around since the mid 60's, it feels a little as if they've only just recently strolled onto the world stage. This is perhaps because the brand had all but disappeared by the early 90's, but was resurrected by the Gucci Group in 2001 who bought them out and began the brand's revival. Bottega Veneta eau de parfum is the first perfume launched under the Bottega Veneta name and it's sudden rise to stardom took the world by surprise!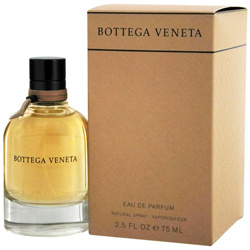 This is a scent that oozes appeal and sophistication right out of the gates. Opening notes of pink pepper and bergamot dance over pretty florals which have a violety, velvety texture... a sensation of stroking one's cheek with napped-suede. A core note of plum and scattering of spices gives this fragrance boundless body and substance. An earthy foundation of patchouli, leather and mosses adhere well to your skin, leaving a smoldering warmth and sensual, memorable trail.
Bottega Veneta has not received its accolades for nought... it is wonderfully captivating in a beautifully refined, sensual way. With the warmth of skin, or friction between two bodies, it truly comes alive. One to covet.