Bizarre Beauty: 'Odd' Perfume Scent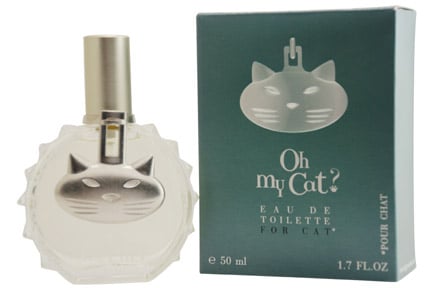 Smelly cat, smelly cat, it's not your fault! And smelly cat, there is a perfume for you...that's right! Who would have thought? So calling all of my cat lovers, there is a perfume that is safe for you and your feline friend, the Oh My Cat! fine fragrance by Dog Generation. It's been said that the fragrance, with notes of mandarin, bergamot, rosewood, jasmine, magnolia, freesia, cedar and sandalwood, is subtle, a 'purrfect' pick for kitties, and can be worn by you, the owner too.
So you may be thinking, how do you apply this feline friendly fragrance to your cat? Spray the perfume onto the 'caressing cloth' that comes with it, and gently stroke the scented cloth over it's fur.
But is it safe? Why, yes of course! If it weren't, I would DEFINITELY be disgusted and not writing about it here...but worry not, it's "created with the same care as a child's perfume and rigorously tested, like all fragrances, to protect a cat's delicate skin and sense of smell."