Headed back to school? Want to start fresh with a new fragrance? Here's our list of great back-to-school fall fragrances for girls and guys.


For Her

Thierry Mugler's Angel
If you don't already own a bottle of Angel (it's a popular fragrance), you need one. Angel is a refreshing woody fragrance that blends a sweet vanilla note with fall fruits.

Notes: Vanilla, sandalwood, patchouli, fresh citrus, melons, peaches, plums, heliotrope, pomegranate, vanilla, chocolate, sandalwood

Heiress by Paris Hilton
Heiress is a fruity floral with candy-sweet top notes; a little less HOT, a little more sweet.

Notes: Passion fruit, orange, peach granita, vetiver, tiare, tonka bean, mimosa, champagne, honeysuckle, jasmine, dewberry, ylang, grenadine, blonde woods, violet

Marc Jacobs Lola
A grown-up version of Daisy, Lola is for the flirty, fun, free spirit. Lola is innocently sexy with dazzling notes of pink peppercorn blended with subtle vanilla, musk and tonka bean.

Notes: Rose, pear d'anjou, pink peppercorn, geranium, creamy musk, fuchsia peony, ruby red grapefruit, vanilla, tonka bean

Vera Wang Rock Princess
Rock Princess is the older, sexier sister to Vera Wang's original Princess fragrance. It contains some of the same sweet notes as Princess, but settles on the skin a little darker than its predecessor.

Notes: Red raspberry, white peach, heliotrope, creamy coconut, jasmine, rose, musk, iris, vibrant bergamot; lily, cashmere woods

Mariah Carey Lollipop Bling Variety
Described as "romantic, fun and young at heart," Mariah Carey's new Lollipop Bling is a sugary-sweet scent that's perfect for back to school.

Notes: Notes vary depending on fragrance choice (Honey, Mine Again, Ribbon)

For Him

Abercrombie & Fitch Fierce
Guys, if you want to stand out, grab a bottle of Fierce. This head-turning cologne is great for getting the girls.

Notes: Orange, lemon, fir resin, petit grain and cardamom; middle notes are rosemary, jasmine, lily-of-the-valley and rose; base notes are musk, oakmoss, vetiver, Brazilian rosewood.

Dolce & Gabbana Pour Homme
D&G Pour Homme is for the confident guy who is comfortable with his masculinity. He's energetic, fun to be around and contagious -- like his scent.

Notes: Lemon, orange, lavender, sage, cedar, tobacco

Givenchy Pi
Givenchy Pi is full of infinite possibilities, and so is the guy who wears this popular fragrance. He's bold and adventurous, a true free spirit.

Notes: Patchouli, sandalwood

Lacoste Pour Homme
Edgy notes of cinnamon, juniper and plum make Lacoste Pour Homme the ideal fragrance for the sophisticated guy. He's most likely to succeed, but still knows how to have a good time.

Notes: Cinnamom, apple, juniper, plum, woods
Oftentimes we aren't exactly sure what type of fragrance we want. Our moods are everchanging. One day our nose might prefer a fresh and fruity scent, the next day warm and sensual. Here are a few tips to keep in mind when trying out perfumes at the store.
Make sure you aren't wearing any fragrance when you go to test out a new scent.
Use a test blotter if you plan to try several different fragrances. Although testing on skin is the best way, it is not wise if you plan to test many fragrances at once.
Spray the scent onto the blotter and let it dry for a few seconds. Hold the blotter about an inch away from your nose to smell it.
In some specialty stores, they offer cocoa beans to sniff after every few fragrance whiffs. This helps to cleanse your "scent palate."
Once you find a scent you like, try it before you buy it. If time permits, leave the perfume on your skin for the day so you get a general idea of what it smells like later, once it's commingled with your skin chemistry. Then go back and buy it.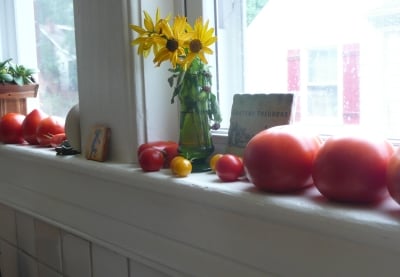 Nothing says summer like garden-ripe, homegrown tomatoes and fresh herbs. And while a caprese salad and homemade salsa are completely agreeable to the taste buds, do they really work in your fragrances?
The fact that, here at FragranceNet we are often sold out of Marc Jacobs Basil perfume and Donna Karan DKNY is a clear indication that, yes, tomato and basil indeed work in fragrance form.
There are other fragrances on the market that contain notes of tomato and basil, including Nina Ricci's Liberty Fizz, CK Truth, Jo Malone Lime Basil, Hermes Un Jardin Sur Le Nil, Annick Goutal Passion, Essential by Lacoste, Sisley Eau de Campagne and Demeter Wet Garden cologne spray.
The greeness of the tomato note often blends well with accenting floral notes, providing an overall crisp, clean aroma … as well as a reminiscent olfactory experience. Let's face it. Nothing really beats the smell of a ripe vegetable garden.
Makes me want a slice of tomato right about now.