Summer is a time to flaunt your gorgeous body, get a glowing complexion and bust out some bright colors. But just because you're looking sizzling hot, doesn't mean you want to sweat your way through the season. We put together some pool-, beach-, sweat-proof (read: water-proof) beauty goods so that you look sharp all summer long, without losing your cool.
Do you have any favorite summer-proof makeup products? Tell us in the comments below!
For a few years now, bold brows have taken over red carpets as the hottest beauty trend out there. Gone are the days where red lips and black nails steal the spotlight, now starlets like Megan Fox, Sofia Vergara and Emma Watson are all about the brow. Needless to say, we were dying to try neat, clean but bold brows ourselves, and found that these tips helped: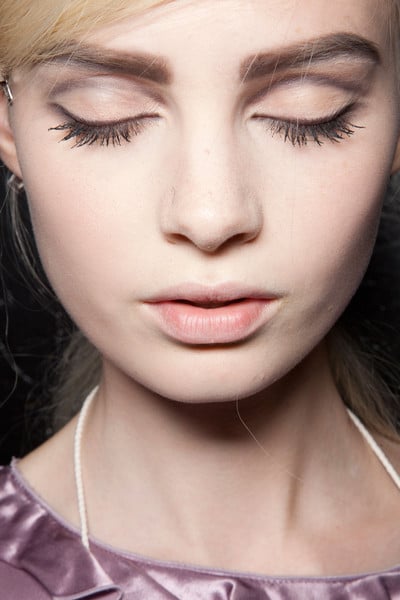 (Spring 2013 - Source: ImaxTree)
Grow 'Em Out
The first step to bold brows is growing them out. Try to avoid plucking during this time. Naturally, you'll come across some messy stragglers along the way. Instead of eliminating them, brush them out with a brow brush like the Youngblood Luxurious Brow/Lash Brush, and smooth over with a little brow gel like the Laura Mercier Eye Brow Gel, to get a clean look.
Follow Your Natural Curve
The best thing about bold brows is that in the end, they're big and neat. Once your hair has grown out, you can neaten up the look by following your natural shape.
There's no need to obliterate your hairs into one thin pencil line; the point is to appreciate the size. Just clean them up and avoid a uni-brow!
We really like Tweezerman Mini Slant Tweezer to do the job. This tool has a really sturdy grip making plucking easy and quick. Follow your brow bone when cleaning up and make sure the highest arch is right above your pupil for a refreshed look.
Learn to Love Powder
Eyebrow pencils are a little outdated, and we recommend leaving them in the '80s where they came from. The big thing now is to color with powder, as that creates a natural, feathered look. Though you can purchase powder specifically for the brows, a traditional eye shadow will do the job, too.
Select a color that is slightly lighter than your natural color—Burberry has a really nice selection of natural-looking brown shadows—and brush the color onto your brows. Make sure you're dusting it on your hair, not on the skin; otherwise it will look sharp and unnatural. Fill them in lightly so there are no gaps, and voila! Bold brows.
With summer in full swing, hitting happy hours after work is seasonal must. However, the makeup you've been rocking all day won't have the same effect after sundown. Looking cute and summer-festive in work gear can be tough, so we rounded up some beauty tricks that will have you looking day-to-night ready in a flash. Whether you're meeting the girls for a margaritas or your man for an under-the-stars soiree, you'll look fresh and fabulous without having to start from scratch.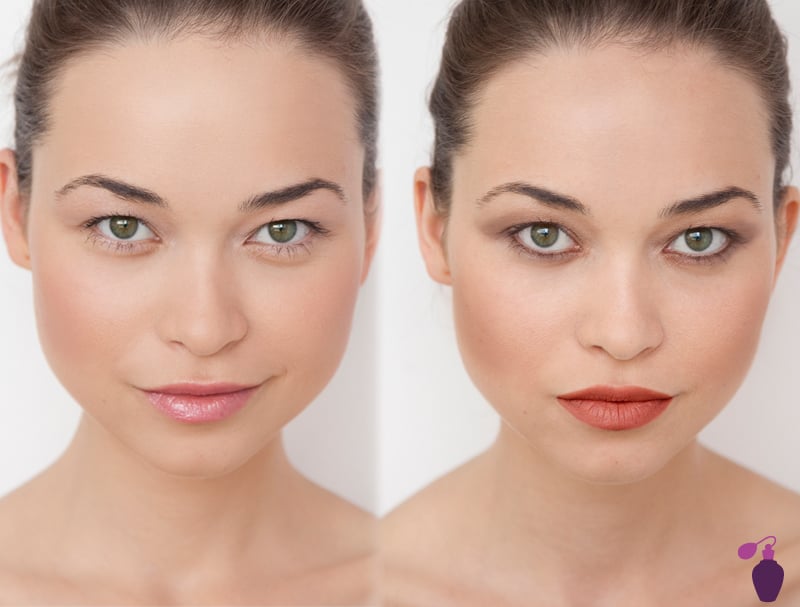 Touch up
At the end of a long day, your makeup it bound to have worn off. Spend a few minutes cleaning up the mess—blot any oil from your face, wipe away smudged mascara, and retouch your concealer. If you're feeling particularly oily, try brushing a translucent powder, like Jurlique Citrus Silk Finishing Powder, across your face to eliminate shine.
Lavish Your Lids
Sultry eye makeup was made for the night, so use these opportunities to pack on some layers and pump up those peepers. Start by re-lining your inner and outer lash lines with a smooth black pencil, like the Bare Minerals Big & Bright Eyeliner. If you're in the mood for a more intense look, line your upper lids with black, Giorgio Armani Maestro Liquid Eye Liner—its tapered pen makes lining easy and precise.
You can always add a little shimmery bronzer to your lids too, like Jane Iredale 24 Karat Gold Dust Shimmer Powder, for an extra sparkle. It will bring out the warmth in your cheekbones, and hey—it saves you from carrying an eye shadow!
Lashes
Always apply a little more mascara to the tips of your lashes. If you brush all the way through, they could start looking clumpy, so focus on the areas that are lacking color.
Liven Up Your Lips
Pastel pink and pretty neutrals are great for the work place, but parties? Not so much. Usually, we would recommend adding a darker lip color for an evening look, but since it's summer, we say play with color! Pick a bright pink or seductive red shade, like Calvin Klein Delicious Luxury Crème Lipstick in Cosmopolitan; think Gwen Stefani as apposed to Gwyneth Paltrow. You can put this lipstick over the color you've been wearing all day, as it should be brighter than what you've been wearing. For the final touch add a clear gloss, just to make your mouth pop.