All White Everything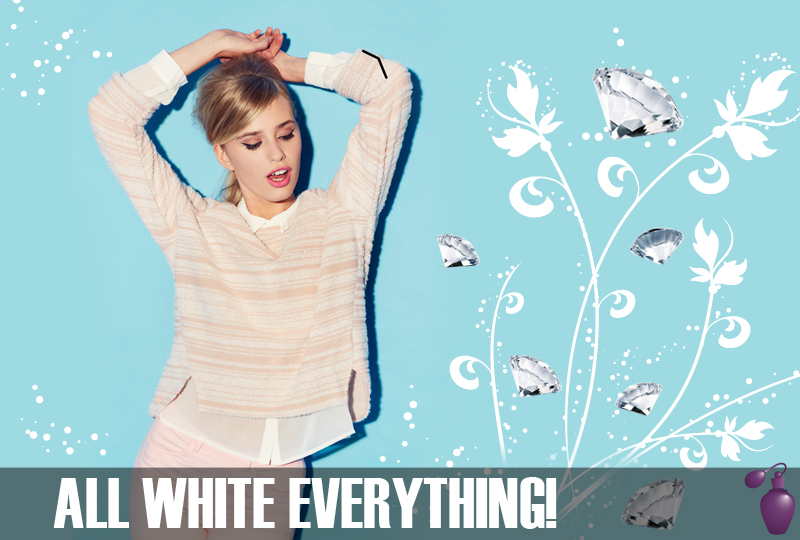 That's right, we love white! We're not talking about the anti-hero of "Breaking Bad," or what we want for Christmas; we're actually referring to fabulous fragrance. White-themed beauties with alluring aromas are ideal for any occasion, and the best part is, it's absolutely ok to wear these items after Labor Day – in fact, we encourage it!
Diamonds are a girl's best friend, and one movie star icon always loved to indulge in them, the legendary Elizabeth Taylor. She, just like White Diamonds perfume, the perfume she created, shine very brightly in the spotlight. This sensual sensation features hints of lily, rose, amber, oakmoss and sandalwood, leaving a mesmerizing scent memory as unforgettable as Liz herself. Speaking of mesmerizing, one of the most unforgettable children's fairytales is of course Snow White. She was known for her flawless beauty, but you don't need a magic mirror to tell you what perfume is one of the fairest of them all. White Musk by Jovan has our vote with its enticing aromas of jasmine, ylang ylang, honeysuckle and warm white florals.
The White House is the residence of our nation's capital, and when it comes to premier fashion houses in the beauty industry, Bvlgari can definitely be considered a first family of fragrance. With White by Bvlgari, captivating aromas of white tea, musk, Artemisia leaves, ambergris, white pepper and ablemosk are all front and center.
It's easy to get carried away with amazing aromas, but you don't want them to weigh you down. White Shoulders by Evyan is a great example of the ideal balance of inviting elements of classic florals such as gardenia, lilac, amber, oakmoss and jasmine, which all combined make for a sweeping scent to savor.
There are plenty of famous Charlie's…the Angels, Chaplin, and Sheen, oh my! But there's only one who offers a seductive scent, and that's Charlie White by Revlon. With aromas of watermelon, violet and jasmine, accompanied by additional notes of sandalwood, this fragrance leaves an indelible olfactory mark that's pretty masterful.