All Natural Beauty: Kiehl's Lip Balm #1
When your lips are chapped and burning we bet you're not eyeing balms and thinking, "Ooooh, this one's packaging is cute -- I've got to get it!"; it's more likely, "Oh my god, where is the ingredient list?! I need some actual moisture relief."
With Kiehl's it's always simple and straightforward -- if their product is going to do something the label will say so, and it'll include the exact ingredients that'll make it happen.
For instance, Kiehl's Lip Balm #1. Yeah it comes in a stark white tube, but it's the crisp black lettering that packs more benefit than any flashy design ever could. Those letters let you know this balm will relieve chapped or cracked lips, as well as help protect them from the drying effects of wind and cold weather, and it'll do it with the help of soothing ingredients and moisturizing oils (we'll get to those in a second).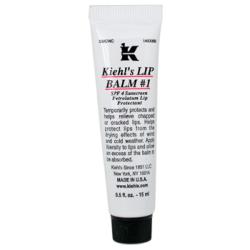 While most of simply apply this transparent balm for that moisture relief, it actually pairs well with a lipstick or gloss. Just apply a thick coat of the balm and let it fully absorb. Keep in mind though, it's not equipped with an applicator. Or you could incorporate it into your nightly regimen.
Ingredient Check
Petrolatum, Squalane, Lanolin, Triticum Vulgare Germ Oil / Wheat Germ Oil, Pentylene Glycol, Tocopherol, Caprylyl Glycol, Pentaerythrityl Tetra-Di-T-Butyl Hydroxyhydrocinnamate, Allantoin, Aloe Barbadensis Extract / Aloe Barbadensis Leaf Extract.
All Natural Skin Benefits
Aloe vera reduces inflammation, thus helping the healing process softening, soothing and comforting chapped skin.
Squalane is a botanical lipid that is similar in molecular structure to natural skin lipids. It is easily absorbed into cracked skin and helps restore natural moisture balance to keep healed skin extra soft and supple.
Wheat Germ Oil, extracted from the germ of the wheat kernel, is an emollient with antioxidant properties due to its high, natural Vitamin E content. It also contains Lecithin and a high percentage of essential fatty acids that are vital for healthy skin.
Why we Love it!
There's something to be said for a brand that holds a deep respect for old-fashioned values, while incorporating skincare advancements. And when you find a lip balm that isn't waxy, sticky, or gooey and boasts a gentle SPF 4, how can you not love it?
While Kiehl's Lip Balm #1 unfortunately does contain animal ingredients (Lanolin), it fortunately hasn't been tested on animals.