All Natural Beauty: BourJois Anti Puffiness Concealer
Puffy eyes be gone! If you're all about serious shadows and eye-popping liners, well then you know how puffy those lids can get after a good scrubbing; not to mention, red. So the next time you're looking to go au natural or just give your lids a nice primer, roll on BourJois Bio Detox Organic Anti Puffiness Concealer.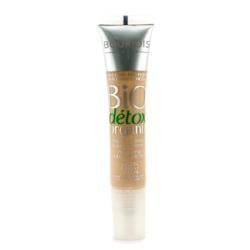 The soft focus pigments not only reduce puffiness, but they also hide dark circles and illuminate the eye area. The 98.9% organic formula relies on Ecocert-certified ingredients from organic farming, such as horse chestnut extract, to strengthen and firm delicate skin.
Simply glide the massaging metal roll-on applicator around the eyes then gently pat the formula with your fingertips.
All Natural Skin Benefits
98.9% of ingredients are of natural origin, with 14.4% sourced from organic farming.
Horse chestnut extract has anti-inflammatory properties that reduce swelling, while the broken capillaries under the skin that cause the blue/black discoloration are strengthened and repaired.
Enriched with chlorophyll, a fresh burst of oxygen is released to purify skin with each application.
Natural fruit and floral extracts such as melon, apple, and sweet jasmine hydrate skin while lending to a light, yet revitalizing, aroma.
Why we Love it!
Uh, Ice Cube Effect?! So yeah, this concealer is equipped with a metal ball applicator that creates an ice cube effect, which in other words massages the eye contour area for an instant soothing and decongesting effect. It's amazing and ophthalmologically tested!
BouurJois Bio Detox Organic Anti Puffiness Concealer also works great on problem spots, as it evens skin tones and dries to a powdery perfection.