There is some serious puppy love going on at Juicy Couture's design house these days. I thought I had some serious puppy love with occasionally dressing my pups up for holidays and attempting to put bows in their hair, but Juicy Crittoure brings puppy pampering to a whole new level. That's right, it's Juicy Crittoure, Juicy Coutoure's beauty line for your spoiled pooch.
And you thought dark polish nails are right on trend for us, get it right with your dog too, with Juicy Crittoure's polished paws in brown. Not to worry, this is a unisex color, able for use on male and female species.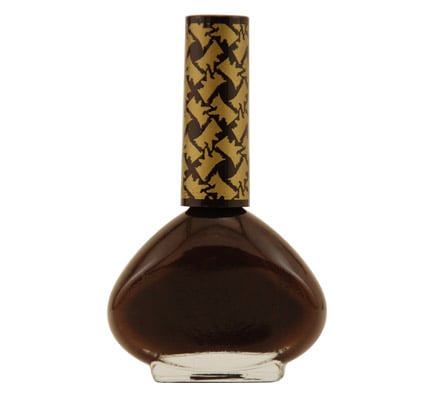 Now that you have your pets nails done, you have to get their hair done, everything 'did' too! That's why they also make an eau de 'pawfum' parfum spray, a soft spot coat conditioning mist, pawlettes cleansing towlettes and don't forget a soft squeaky chew toy for all this fun!
Normally, a thing like this is priced outrageously, say, normal retail price, $65...but yes, we have this fab gift set for your furry friend for almost half that price! We had to brag about it...of course, throw us a bone here!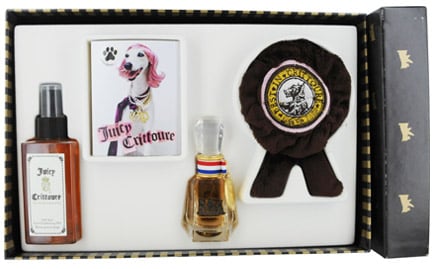 So would you pamper your pet in Juicy Crittoure? I most likely would!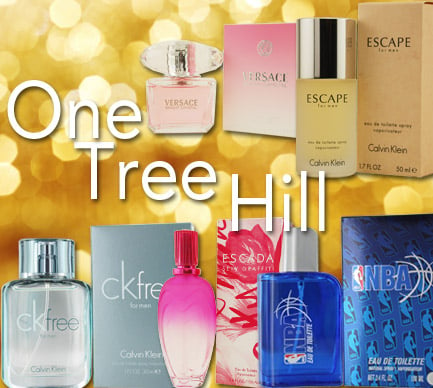 It may have been tough for some of you One Tree Hill finatics to say goodbye to the gang after a nine season show! But while some of you were thinking about the end of the show, the finale, and what not...I sit here thinking, what fragrance may they have worn 9 years a go on set...and what they may be wearing today. 
Let's take a step back, down memory lane and have fun with my favorite characters, Brooke Davis (played by Sophia Bush) and Nathan Scott (played by James Lafferty).
In my opinion, Brooke has grown the most over the course of the nine series. At the beginning, she was the seductive, crazy girl who loved to party and didn't have a care in the world. Now, look at her 8 seasons later as a mother and a wife, owning her own, not to mention super successful business, and I love that she always finds a way to follow her instinct with her heart. I think, she may have worn Escada Sexy Graffiti perfume, because, well she had that careless attitude, and lived her life minute by minute. Nowadays, I'd love to think she wears Versace's Bright Crystal perfume. 
Now, Nathan...he made himself out to be quite the athlete, and I can't imagine him wearing anything but something like the NBA Knicks cologne by Air Val International. Over the season's series, he had obtained many obstacles and struggled, I feel he still remained strong even through his accident, his annoying father, alchoholic mom, and the list goes on and on. I'd like to think that he uses Escape by Calvin Klein, or even CK Free by Calvin Klein. They say scent is the most powerful sense, and with what's going on in this characters life, he needs a good escape and to free his mind. 
Who were your fave One Tree Hill characters and what fragrances do you think they used?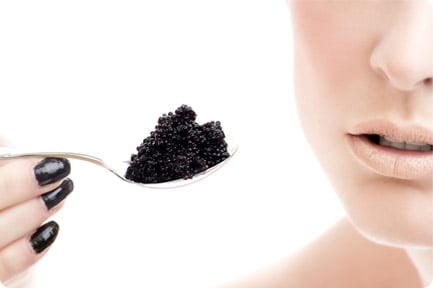 Talk about bizarre beauty! Have you seen the latest, and possibly, the greatest nail trend...the caviar manicure? Yep, that's right, caviar is not just for eating anymore, it now has a look alike nail polish trend! Ciaté has created kits that come in rainbow, black and white, and retailers are starting to get these in...in hopes to sell out!
In reality, all the 'caviar' is are tiny microbeads and with it, a nail polish for application first. So, technically, rather than waiting for these kits to come out, how about a little doin' it ourselves? 
All you'll need are two items, the first a quality nail polish, like Dior Vernis nail lacquer or an OPI polish. The second item would be your caviar aka microbeads. You can head to any craft store for those and get as many or as little colors as you want! You can mix, match, combine, and oh hey, how about doing an ombre caviar nail? How hot would that be?
Moving on...polish your nails as you normally would, with a base coat and a first coat. Onto the second coat, apply the polish thickly and pour the microbeads over your nails. Do this for all your nails and lightly pat the beads on each nail to safely 'secure' them, for a longer lasting mani.
Don't want to do all your nails, just do your ring fingers and create an accent nail! It's a gorgeous look! Will you try it?If you do, post a pic of it on our Facebook profile or TwitPic it to us @FragranceNet