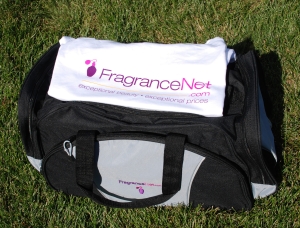 Like so many of my colleagues, I am a working parent who struggles with balancing time at home, work and play. Fortunately one of the best ways I've found to fit a workout into my overly busy days (5 a.m. just isn't happening for me) is during lunch.
Quite often, if you are driving around our office building, you will see the vast majority of our office walkers - many clad in FragranceNet.com t-shirts, fresh out of our supply closet. A few of us, however, take our workouts inside, as our office is located across the street from a large gym – complete with pool!!
As a lunchtime workout fanatic, I have successfully learned how to masterfully pack my gym bag, with everything I need for the week -- a few changes of workout clothes, sneakers and towels. Plus, my ever-so-important beauty supplies.
Working at fragranceNet.com gives me tremendous access to a bevy of beauty products …13,000 to be exact. I have come to realize that clarifying shampoos work great for when I swim, pursers are a plus, deodorant a must and lotions very beneficial!
Here are some of my important gym-bag beauty essentials:
-Make-up remover
-Facial cleanser
-Body mist
-Moisturizer
-Body lotion
-Lip gloss
-Clarifying shampoo
-Conditioner
-Make-up
And I always tuck a magazine scent strip in the bottom of my bag.
(Patti K. is FragranceNet.com's vice president of business development. She has been with the company for almost seven years. Patti believes in love at first sight -- it's how she met her husband and how she feels about her two kids.)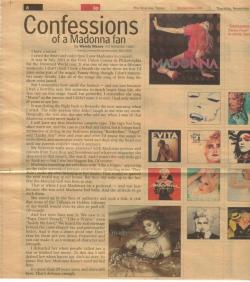 I just read in the news today that Madonna is close to signing an agreement with Coty to launch her first fragrance.
I will confess. I love Madonna. I'm sure that shows my age, but that's OK.
Madonna was a strong presence from adolescence through college, and beyond. I even wrote an article about Madonna in the local newspaper a few years ago (pictured here).
It wasn't her singing -- we all know she's not the greatest singer on the planet -- but her bold courage that drew most of us young girls to her. She certainly paved the way for women performers. Even Lady GaGa has said was inspired by Madonna.

Will I buy her new fragrance? Probably. Even if I don't like how it smells on me.
I guess it's about loyalty. Or nostalgia. Or a little of both.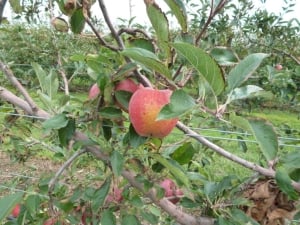 This past weekend I took my kids apple picking and I noticed a familiar and comforting smell ... crisp air, falling leaves and the sweet smell of the fall harvest. Obviously, fall is just around the corner.

The beginning of fall means a few important events for our family. For one, football season begins, and I lose my normally healthy husband and son to nachos, chicken wings and beer (for the husband of course). Our wardrobe gets a makeover as we exchange our shorts and sandals for sweaters and boots. Plus we await shorter days and longer nights.
While this may be a dreaded transition for some, for my family, each season is its own celebration. For us, the warm smells of cinnamon and apple, the comfort of our favorite scarves, the great cozy nights by the fire playing board games, and the deep rich colors of crimson and gold are magical.
In my motherly effort to embrace the season, the citronella candles are switched out for warm scented candles, the flourescent nail polish is switched to darker, bolder colors and the flowery fragrances are replaced with my favorite orientals and greens.
Happy fall to all!
 
(Patti K. is FragranceNet.com's vice president of business development. She has been with the company for almost seven years. Patti believes in love at first sight -- it's how she met her husband and how she feels about her two kids.)