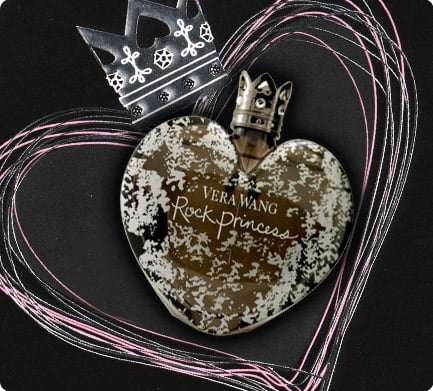 With every season change comes the switch of fragrance, and this season, I'm asking YOU to help a girl out!
Currently, I am using Vera Wang Rock Princess, a yummy fragrance with top notes of white peach, red rasperry and bergamot, rose, jasmine, lily, musk, iris, and creamy coconut.  I love the scent but I'm just ready for the switch for a summer fragrance that's sweet and fruity.
I'll admit, sure I love the fragrance, but what I love even more about the Vera Wang Rock Princess is the heart shaped bottle it comes in. The fact that the top is a crown too is super cute, and I have thought about wearing the black top cap piece (the bottom part of the crown) as a ring.
So I guess, I do take into consideration the bottling of the fragrance, along with the fragrance itself.
So now that you know a little bit about what I like about my current fragrance, help me out in deciding which new perfume I should make the switch to!
Leave a comment below or on this Facebook post!
Looking forward to all of your suggestions! :)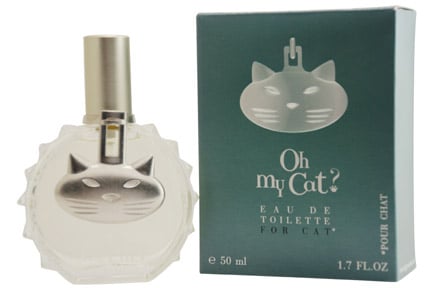 Smelly cat, smelly cat, it's not your fault! And smelly cat, there is a perfume for you...that's right! Who would have thought? So calling all of my cat lovers, there is a perfume that is safe for you and your feline friend, the Oh My Cat! fine fragrance by Dog Generation. It's been said that the fragrance, with notes of mandarin, bergamot, rosewood, jasmine, magnolia, freesia, cedar and sandalwood, is subtle, a 'purrfect' pick for kitties, and can be worn by you, the owner too.
So you may be thinking, how do you apply this feline friendly fragrance to your cat? Spray the perfume onto the 'caressing cloth' that comes with it, and gently stroke the scented cloth over it's fur.
But is it safe? Why, yes of course! If it weren't, I would DEFINITELY be disgusted and not writing about it here...but worry not, it's "created with the same care as a child's perfume and rigorously tested, like all fragrances, to protect a cat's delicate skin and sense of smell." 
There is some serious puppy love going on at Juicy Couture's design house these days. I thought I had some serious puppy love with occasionally dressing my pups up for holidays and attempting to put bows in their hair, but Juicy Crittoure brings puppy pampering to a whole new level. That's right, it's Juicy Crittoure, Juicy Coutoure's beauty line for your spoiled pooch.
And you thought dark polish nails are right on trend for us, get it right with your dog too, with Juicy Crittoure's polished paws in brown. Not to worry, this is a unisex color, able for use on male and female species.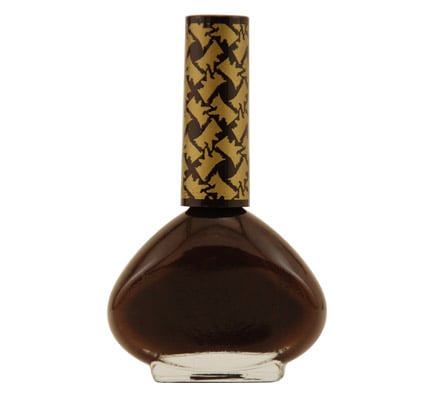 Now that you have your pets nails done, you have to get their hair done, everything 'did' too! That's why they also make an eau de 'pawfum' parfum spray, a soft spot coat conditioning mist, pawlettes cleansing towlettes and don't forget a soft squeaky chew toy for all this fun!
Normally, a thing like this is priced outrageously, say, normal retail price, $65...but yes, we have this fab gift set for your furry friend for almost half that price! We had to brag about it...of course, throw us a bone here!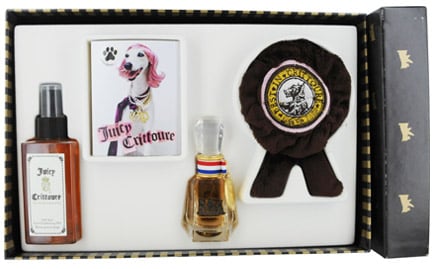 So would you pamper your pet in Juicy Crittoure? I most likely would!