Say 'no more' to make up that melts and smudges, looks faded or changes colors mid day. A few tips and tricks and some quality, designer products from us will get your makeup looking like it did right after you first applied it -- all day and all night long.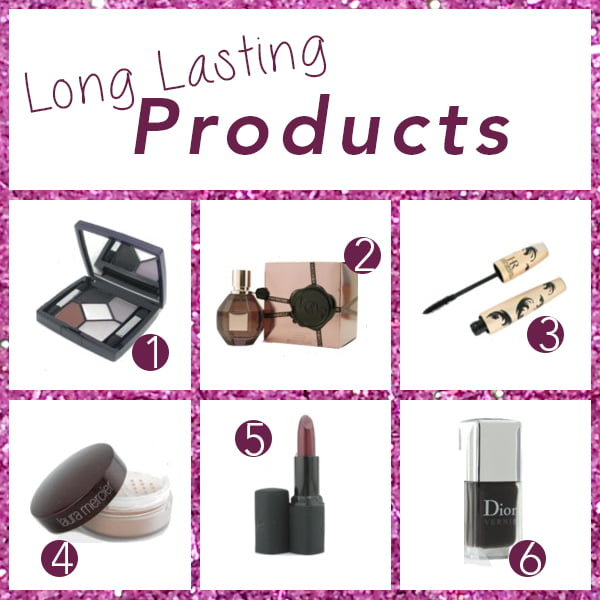 First, use a makeup primer as a base, Murad's hybrids skin perfecting primer is amazing! Layering is key, that's true for fragrance, makeup, you name it, it's your key to looking and feeling your best. Prep your face with a primer, apply it before you apply foundation. What does it do? It reduces and camoflauges any large pores and will prepare your face to accept the foundation (tinted moisturizer, BB cream) whatever it is you plan to use!
After you've prepped your face, use a creamy or cream based foundation, this way it will 'melt' into your skin before using a powder foundation, if that's your preference. Just like you may prep your eye lid with primer, a cream based product will make your makeup products stick to you, this tactic works extremely well.
Lastly, lock it down. Set it with a translucent powder,brushing it all over the face. Worried about clogging pores or looking too made up or even worse, cakey? Mineral powders are healthy and a great way to lock it down with a natural, no makeup look.
Have your face down pat? Looking for makeup products that will last on your eyes?
Clarin's has quite a color selection for their single eye colour. We're loving #11 in sweet melon. These shadows will illuminate your eyes with pure color, smoothly glide on and gives incredible even color, while of course be long wearing with exceptional hold.
A long lasting, water resistant mascara? We are obsessed with Lancome's l'extreme mascara in no. 01 noir stretch. This mascara will literally extend your lashes up to 60% instantly. This water resistant mascara not only softens and protects lashes, but incredibly enhances glamour to your eyes.
Long Lasting lip wear anyone?
How does a smooth glide, semi sheer lipstick that gives an incredible plush feel and full moist finish sound to you? Good, right? Well, it gets better! Smashbox's photo finish lipstick with sila silk technology is long wearing and makes your lips velvety smooth with room for shine. 

And of course... how could we do a post without mentioning long lasting scents?
Eau de parfums, typically stronger in scent and concentration from an eau de toilette, are preferably longer lasting but it all comes down to the moisture of your skin. SO before trying any of these suggested fragrances, the number one suggestion is to moisturize, moisturize, moisturize! Give the scent some moisture to grab a hold of, dry skin is never a good thing for someone who wants a long lasting scent. Ok, now that you catch our drift there, here are a few fave picks of eau de parfums we can't get enough of.
Let's talk about a romantic scent, sure to be a hit, day or night...Flowerbomb Extreme. This eau de parfum is a bit stronger than Flowerbomb but is a great choice with a combination of bergamot, jasmine, osmanthus, white flowers, amber and vanilla. YUM!
If you love Chloe Love, you will absolutely adore Chloe Love eau Intense. Yep, you can guess it right, this eau de parfum spray is a bit stronger than it's original, with a gorgeous mix of elegant notes that include orange blossom, pink pepper, iris, lilac, wisteria, hyacinth, heliiotrope, powdery musk, talc and rice. 
What are your favorite long lasting fragrances and beauty products? Shop our designer brand products for way less than anywhere else!

How to be the life of the party, besides your amazing outift and personality? Leaving a lasting impression with a well chosen perfume! Remember, fragrance is an accessory too, so be sure to match your scent well with the look you plan for the night! Take a look at our top party fragrances to get things going.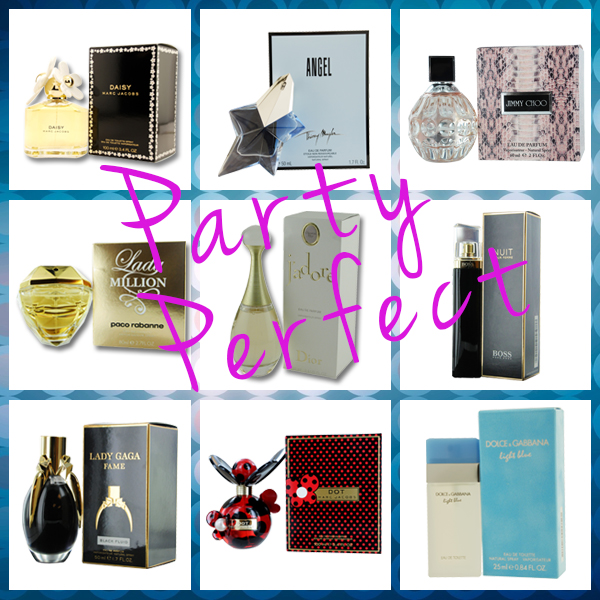 (From top to bottom, left to right: Marc Jacob's Daisy, Angel by Thierry Mugler, Jimmy Choo perfume, Lady Million by Paco Rabanne, J'adore by Christian Dior, Nuit Pour Femme by Hugo Boss, Lady Gaga's Fame, Marc Jacob's Dot, and Dolce & Gabbana Light Blue.)

Marc Jacob's Daisy is a scent that is sunny and pure spirited, perfect for a care free, flirty girl. Notes include strawberry, violet, and white wood accords.
Theirry Mugler's first fragrance, and one of our personal faves, Angel, is a gorgeous oriental gourmand scent with a hint of bergamot and helional. If you're that glamour girl that wants to get noticed, try a spritz of this all-out glam scent ASAP!
Fashionable and fun, Jimmy Choo's first perfume is fun, warm, rich, and good enough for the confident, intelligent, fashionista type of girl! Snag a bit of this fragrance with fruity chypre and woody depths.
Feel like a million in Paco Rabanne's Lady Million perfume, a scent that is sure to please the noses of those who suround you. Lady Million includes notes of raspberry, orange flower, white honey, lemon, neroli, and jasmine. Ideal for any type of night, this mature scent will be sure to last through any situation.
Femme fatale types, embrace your feminine side with J'Adore by Christian Dior. This beautiful blend of floral orchids, violets, roses and blackberry musk create a sensual aroma that will bring the heat...in a good way! Spray a bit into the creases of your arms before you leave for a luscious scent that will last all day and night. 
The equivalent to the 'little black dress' of fragrances, Nuit pour femme is chic, sensual, and super feminine. Mix it up with notes of jasmine, peach and sandalwood with Nuit Pour Femme by Hugo Boss.
Be the center of attention when you let everyone know you're wearing the first black perfume that sprays on clear...the fierce fragrance, FAME, of Lady Gaga is the only one that can manage. Notes include atropa belladonna, incense, honey, saffron, apricot, and tiger orchid.
Marc Jacob's Dot is a fragrance for the young and lively, capturing a charming, upbeat spirit. Dot carries a lush, floral scent perfect for every eclectic, spontaneous female.  Would you try it? Notes include jasmine, coconut water, orange blossom, creamy vanilla, driftwood, and sensual musk.
Light and fresh, set the mood with Dolce and Gabbana's Light Blue, a light floral fragrance with a combination of fruity notes, including apples, bluebells, jasmine, bamboo and white rose. It's fun, it's light, and fresh...what type of night will you set with this scent?

Ever wonder what the staff at FragranceNet.com is wearing?! We'll we thought you would be wondering that...which is why we're letting you know what we're wearing today!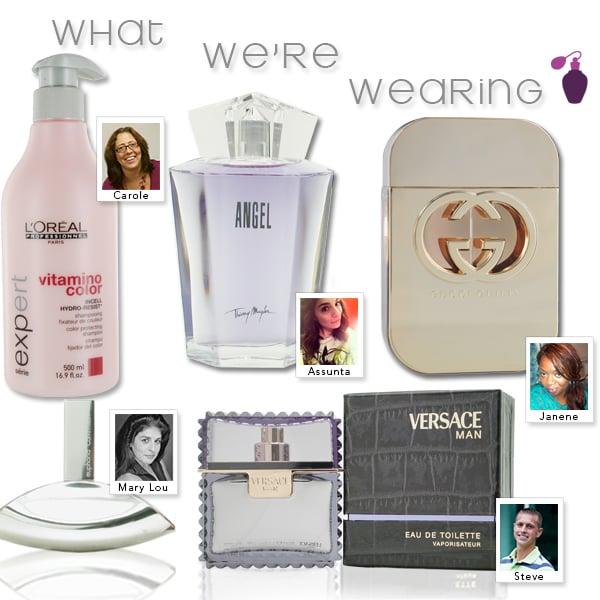 Mary Lou, from our accounting department, says she wears a variety of perfumes, each day it's different. She loves Calvin Klein Euphoria, Tresor and Hypnotic by Lancome, Ellen Tracy, and Sarah Jessica Parker...oh and let's not forget Juicy Couture! 
Carole, our creative director says her hair is 'frizzy' and 'it's just not the bomb'. Her new hair care stylist recently used 2 L'Oreal products for her color treated, frizzy, dry, (even crinkly) hair, the results? AMAZING! Carole promptly went and picked out those same 2 items her stylist used from our warehouse and made her puchase. Wondering what those miracle products are? L'Oreal Serie Expert Vitamino Color Shampoo, which has a UV filter, helping to keep colored hair last longer. Then the other product? L'Oreal Serie Expert Absolut Repair Masque for very damaged hair. Carole said, "Let me tell you that stuff really worked like a charm. My hair styled wondrously after that treatment. I highly recommend the repair masque as a twice a month – you just can't go wrong."
Assunta, that's me, is with Mary Lou...I have a ton of perfumes (thanks to working at FragranceNet.com), it's almost impossible to NOT want (and try) every new fragrance that comes in and out of the warehouse. Some of my faves that I wear on a daily basis, well lately it's been Angel by Thierry Mugler. The scent sprayed on me at first is super strong, but after say, 30 minutes, it smells amazing and works great with my body chemistry. Another fave of mine is Flowerbomb by Viktor and Rolf, but I have to say... I am definitely an Angel by Thierry Mugler kinda girl, I have the Angel Violet, Angel Lily, Angel Rose, and probably another few variations of the Angel scent. What can i say, I love his scents.
Steve, a marketing team member here, wears his Versace Man Eau Fraiche. He says he wore it here on his interview and definitely thinks it helped him make that good first impression. The masculine scent includes notes of lemon, rosewood, tarragon, musk and sage, a great cologne with flexibility to wear it in a number of situations, whether it's hanging out on the weekend catching a game at the bar or a day at the office.
And last but not least...

Janene, a member of our creative team, loves a spicy scent, especially Gucci Guilty, which mixes mandarin, pink pepper, lilac, geranium, peach and patchouli notes in one that will really make an impression wherever you wear it. She says, "I love Gucci Guilty because a sprtiz of this makes me feel amazing...it's an instant pick me up."