8 Experts Show You How To Survive Winter
Although the winter season definitely allows you to experiment with new and exciting fashion looks, we won't deny that the changing elements can be hard on any beauty regimen. Once the temperatures drop for instance, the cold and dry air can be harsh on both your skin and hair, leading to split ends and cringeworthy cracked hands. Yikes.
But before you get trapped in an inescapable winter beauty fail, we've gathered some expert beauty tips (and shoppable favorites!) to help you prep for whatever Mother Nature throws your way.
Got flaking dry skin, or unmanageable tresses? Try these eight expert beauty tips, offering need-to-know beauty solutions, fast.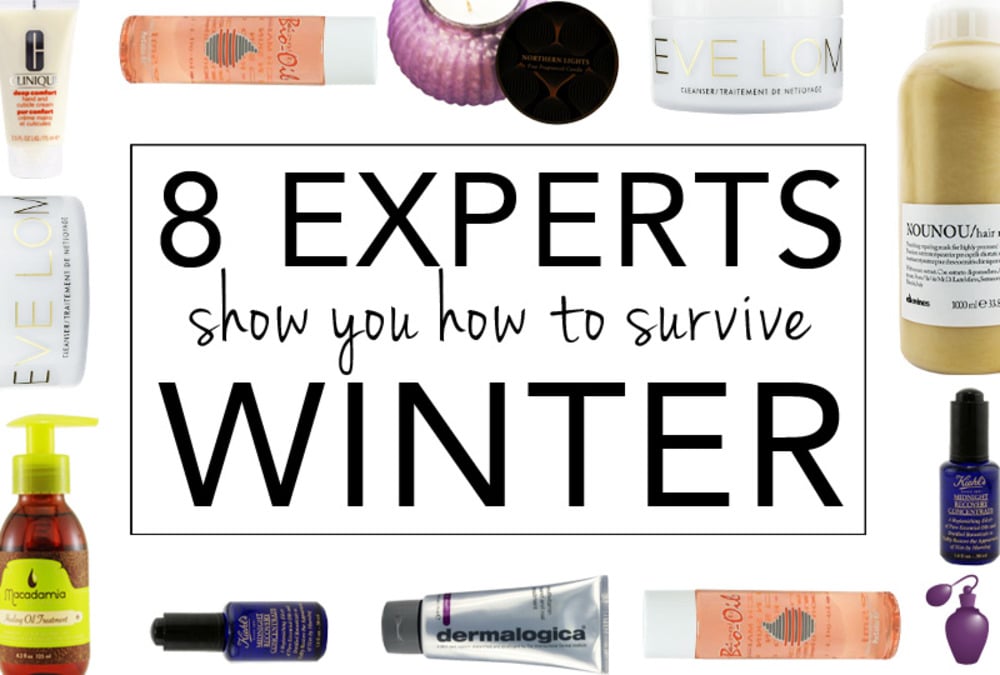 Take Care Of Your Hands- Aly Walansky, Expert Lifestyles Journalist
"Frostbite is no joke and can be really dangerous, but keep your hands better prepared for the onslaught by moisturizing as often as possible -- try for every time you wash your hands! Philosophy Hands of Hope is actually in my purse right now and i swear by it. It's great for your cuticles as well!"
Try A Relaxing Bath- Grace Gold, Beauty and Wellness Journalist
"My favorite winter indulgence is a nice warm evening bath that warms me up from the inside out! And to make the experience feel even more pampering, I always burn a lavender candle. It's calming and sets me up for the perfect night's sleep."
Find A Multipurpose Oil- Karie Frost, Beauty Director, Nail It! magazine
"I live in a building where I can't control the heat during the winter, which causes my scalp, lips and cuticles to freak out. I've taken to dabbing a little bit of body oil on the offended areas first thing in the morning and right before bed. Bio-Oil is a cult classic that helps ease any flaking or blisters; just be sure to keep your application super light when applying it to the scalp area so hair doesn't become flat and over-greased!"
Opt For More Oils- Lara Eurdolian, Founder or PrettyConnected.com
"It's no secret your skin becomes more dry in the winter, so more hydrating products are in tow. Opt for more oil-based products in your skincare regimen as oil creates a productive layer and retains more moisture which helps protect skin from the elements. Two of my winter skincare staples are the Eve Lom Cleanser and Kiehl's Midnight Recovery Concentrate."
Use A Hand And Cuticle Cream Often- Jamie Stone, Founder Of HonestlyJamie.com
"My biggest tip for winter is to make sure you protect your hands. I can't tell you how many times I forgot to bring gloves when I lived on the east coast and would absolutely regret it the next day, if not the next minute. Cold weather can really dry out the hands so it's important to keep them moisturized with a good hand and cuticle cream. I love Clinique's Deep Comfort Hand and Cuticle Cream, personally."
Apply A Hydrating Hair Mask- Alexis Wolfer Founder Of The Beauty Bean, and author of Radiant Bride.
"In the winter, I like to apply Davines NouNou Repair Mask to towel dried hair, comb it through, and throw my hair in a sleek top knot. Not only does it tame frizz for a sleek bun all day long, it also gives my mane a mega dose of moisture too. At night, before bed, I shampoo and condition as usual to reveal super hydrated locks."
Try A DIY Keratin Treatment- Anna De Souza, Beauty Expert and Host of The Clyck
"When my hair is feeling parched from dry indoor heat during the winter, I give myself a DIY keratin treatment! It's completely safe, doesn't sting your nose - or your wallet. It's so simple, just wash and dry your hair. Separate in five or sections sections and apply argan, coconut or even macadamia nut oil generously from root to tip. I love Macadamia Natural Oil's Healing Oil Treatment."
"Working one section at a time, comb hair and take a flat iron to it, I use my CHI ceramic iron for this. Flat iron each section three to four times. This seals the oil into the cuticle! If you can spare it, put your hair in a pony - it'll be greasy - and wash off in a few hours. Your hair will be so shiny and all those frizzies - gone for good. At least for three or four weeks."
Select A Multipurpose Skin Treatment -Jennifer Matthews: Founder Of My Beauty Bunny
"As temperatures cool down and indoor heaters heat up, your skin will need extra moisture. To avoid the dreaded "lizard hands", I recommend applying cruelty free product, Dermalogica Multivitamin Hand and Nail Treatment, morning and night for soft, smooth skin. You can also use it on your feet and elbows."