5 Scents Under $50
Looking for trendy updates to your summer wardrobe? Check out these 5 scents -- all under $50!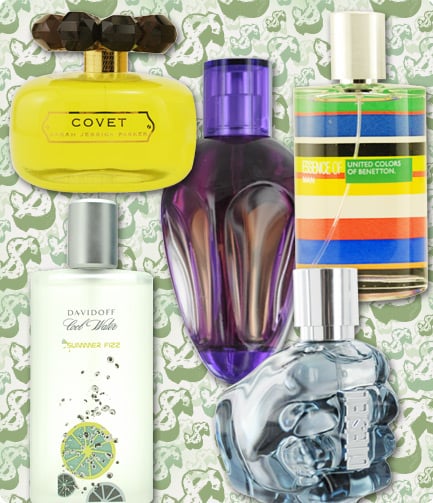 There is nothing as exciting as falling in love with a summery scent that is LESS than $50. Talk about getting bang for your buck, what luxury product can you get for under $50…wait, that's right, you most likely can't do that unless of course, you're shopping with us!
Here are 5 fragrances we couldn't resist that are all…under…$50.


Covet, a spicy yet moderate fragrance from Sarah Jessica Parker is not only under $50, but also happens to be under $40, talk about a fragrance steal! This 3.4 oz eau de parfum spray has appealing notes that include geranium leaves, honeysuckle, teakwood, lemon, lavender and chocolate. Whether you're spending the day with a special someone or just out shopping for a new outfit, Covet is a scent that complements the occasion.
Here's another super sale, My Queen by Alexander McQueen, offers a few fragrance options, with a light perfume mist (under $30), either the 1.1oz eau de parfum, (also under $30), and then the full size bottle, the 3.3oz eau de parfum spray (for under $40). This scent has a gentle flower scent that is very sexy with notes including parma violet, vanilla, sweet almond, vetiver, absolute, and orange blossom.
A cologne from Benetton, Benetton Essence is a musky, wood scent with vetiver, bergamot, peach, rose, orange, jasmine, and freesia notes. With a scent this good, we'd never expect it with a price to match, but it does! Check out this affordable men's cologne for under $30!
Don't let that summer heat get to you! We love Cool Water Summer Fizz fragrances (for men and women) by Davidoff, plus we love the super cool price, under $40! Can't complain about a cool perfume with notes of citron, vetiver, bergamot, cedar, mint, musk, juniper, lavender, orange, suede, and leather.
And last, but certainly not least, another fave fragrance under $50 on our site! With it citrus scent, Only the Brave by Diesel is a men's fragrance that is perfect for those casual situations. A combination of violet, amber, styrax, leather, coriander and mandarin orange is mixed with several other notes to create a cologne that is the right match for your laid-back vibe. Snag this fragrance for under $50 with the 1.1oz edt spray.
What is your favorite fragrance under $50? Check them all out here.