5 Must Haves For Your Summer Bag
Memorial Day is right around the corner and we can't keep these must have items to ourselves.  Typically, people keep these things a secret, you know, "their own little beauty secrets", but I, on the other hand LOVE to share them with you too! So get in on the deets, and know what my summer must haves are and why you won't be able to keep your hands off of them too!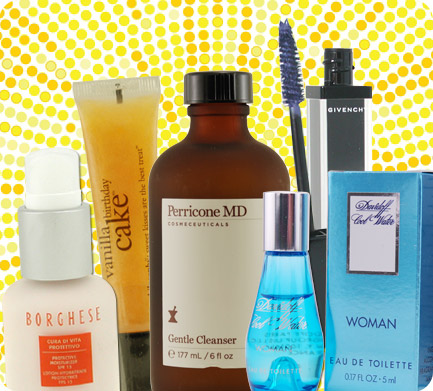 First off, let's just talk Borghese. There is not a single Borghese product I'd say no to,  and this cura de vita protective moisturizer (with SPF 15) is no exception. Not only a great daily moisturizer WITH SPF in it already so you don't have to worry about applying sunscreen, but heck, it's 50% off on our site, and I don't know about you, but I can't help myself when I see a great deal.
It's not my birthday until October, but did I hear someone say Philosophy's Vanilla Birthday Cake lip shine?! Gimme some of that…this lip smackin' lip gloss will have you licking your lips and reapplying application after application, and get this, no calories, perfect for swim suit season, right! But all jokes aside, here's the icing on the cake; it's under $15 and I'd much rather this lip gloss rather than the real deal, any day!
With the summer heat, sunscreen on face and hair in the wind, it's important to have a gentle cleanser to wipe away all the day away. There is nothing more refreshing than washing your face with Perricone MD's gentle cleanser, it has all the 'good stuff' bottled up into one. It has anti-inflammatory and antioxidants and includes olive oil polyphenols which nourish and hydrate your skin. Don't let the sun dehydrate you & your skin, get a thirst quenching face wash, like Perricone MD and feel your skin sparkle.
It feels like summer, so why not smell like summer, eh? Cool Water by Davidoff is a truly delicious scent, with fragrance notes of citrus, pineapple and woody notes, blended with the scent of the ocean air. Who needs a beach when you have this lovely fragrance, not I!
Some days, it's just too hot and humid for a full face of makeup, so brighten up your face with a tinted moisturizer (with SPF of course) and make your eyes pop with a fun and flirty blue mascara. I love Givenchy's eye fly mascara in fly in blue, the deep blue really brings out the green in my hazel eyes and can bring out the best in your eyes too!