5 Hairstyles You Can Do in 5 Minutes or Less!
Some days, there is just not enough time in the day to actually 'do our hair'. We get it, we really do, we have those days too, where we wake up late and have to rush to catch the next train. That's why we mastered these 5 hair styles that will get you out the door in no time at all.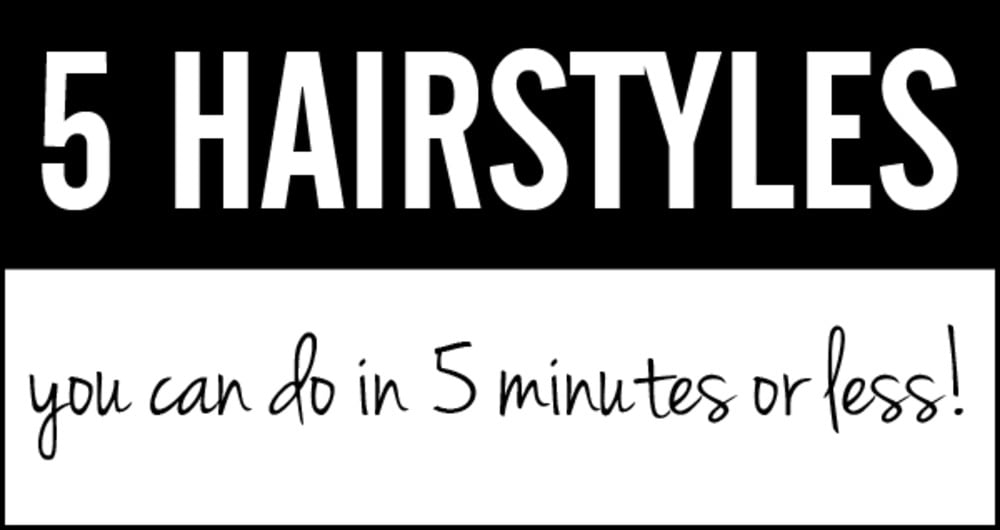 Hair Look # 1: The Top Knot Bun, also very well known as a sock bun, is super simple and quick. Get the look by brushing your hair like normal and be sure to use a leave in conditioner for really smooth styling. Pull your hair into a tight ponytail and wrap your hair around the ponytail so that it covers it. Continue wrapping until a bun is created. If you have short hair or layers, first twist the ponytail and then circle it around the ponytail. Secure your bun with bobby pins and finish with a strong hold spray - may we suggest Bumble & Bumble Does It All hair spray, a modern rendition of traditional hair spray BUT offers a subtle sheen and softness that brushes out in a breeze.
Hair Look #2: Sleek, Straight Hair is super easy, especially if you already have straight hair. Have curly or kinky hair? Blow it out the night before so that in the morning it's easy as cake! Simply heat up your straightening iron and section off your hair. Start straightening the sections, applying a heat protecting spray, like Abba's Pure Thermal Protect Spray. Once you have straightened all the sections of your hair, tousle around your strands and go!
Hair Look #3: Ponytail In a hurry and need your hair out of your way? Go for a sporty, sophisticated look with a pony tail. Brush your hair into a low, high or medium height ponytail, whichever you prefer and be sure to remove any hair bumpbs or knots that you get along the way.
Hair Look #4: Tousled, Wavy Hair Let it all hang loose with your wavy and natural curls! Try TIGI S Factor's One Curl at a Time curl serum, a yummy blend of aloe, raspberry and pomegranate extracts that eliminates frizz, adds definition and gives a light hold while giving a healthy shine to your hair.
Hair Look #5: Braids Looking for a fancy look in no time at all? Braid your hair up for a fishtail braid, a french braid, or even a regular braid...whichever braided look you do decide to choose, be sure to use a holding spray! Bumble and Bumble's extra strength holding spray is the ultimate finisher! It is guaranteed to finish and hold flips, dips, swirls and curls. Use as a last step to finish and hold when hair is dry and styled.
Which style will you wear, in 5 minutes or less? Try them out and let us know what you think!