5 Glam Beauty Products We LOVE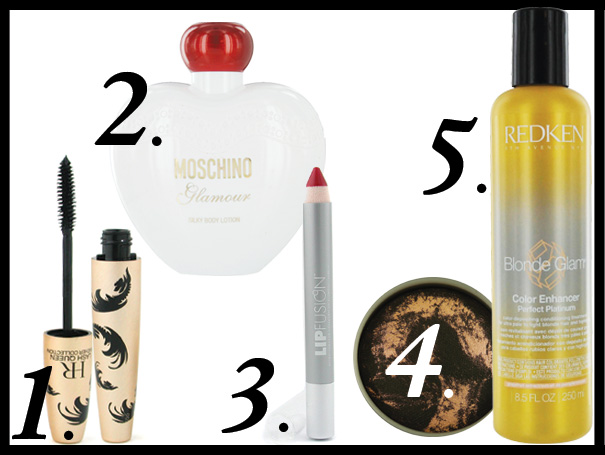 Go glam with these top 5 picks we can't get enough of!
Glamour is more than appearance, it's a lifestyle. Check out these 5 glam products you should include into your everyday routine for a ...well, glam... day! 
1. Helena Rubinstein's lash queen feather mascara is a long lasting, feather light formula that will give your eyes a striking look. It offers a maxi-voluminous lash look and increases the length and curl of your lashes! The curled brush will prevent from clumping and helps with easy, smooth application. 
2. Keep your skin smooth and soft with Moschino's Glamour sexy body lotion. The spicy scent is made up of notes including cedar, white musk, tangerine blossum, cattleya orchid, hibiscus, amber and waterlily. 
3. Pucker up with this collagen lip plumping pencil in glam. The advanced lip liner shapes and defines lip contours, all while plumping and hydrating your lips for naturally lucious, kissable looking lips. 
4. Pair your Helena Rubinstein lash queen feather mascara with Too Faced galaxy glam eyeshadow in shade super nova. For deep, dark gazing into each others eyes, this shadow hue is perfect for that special someone to get lost in your eyes. 
5. Are you a blonde looking for a color enhancer? This conditioning treatment is as glam as glamour gets. This helps neutralize brassiness and warm tones to revive ultra-pale light blonde hair and highlights. For a refreshed and infused with sparkling shine type of haircolor, use Redken's Blonde Glam Color Enhancer.