5 Fall Fragrances You Can't Ignore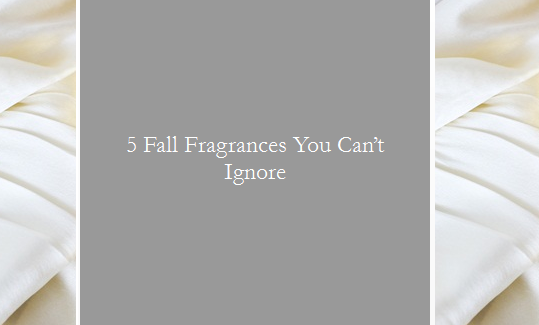 These 2012 newcomer scents are perfect for the fall, and to be completely honest, stand no chance of being ignored. Lend all of your attention over to these 5 fall fragrances, no really, you won't be able to resist! Here are 3 women's scents and 2 man scents full of we fragrance notes you and I won't be able to pass up anytime soon!
Great for the start of the new season, Chloe's new L'Eau de Chloe is a light, refreshing and brilliant version of the original Chloe eau de parfum scent. Crisp and citrusy, this scent matches the start of a fresh, crisp autumn season. The light green liquid in the classic fragrance bottle feature sparkling citrus accords with accords of rose petails and distilling rose water.
Warm up that chill in the air with Spicebomb by Viktor & Rolf for your man. This warm, spicy, cinnamon-y scent has notes of tobacco but is softly spicy and sweet. Talk about a masculine scent, this scent is explosive and addictive. 
Ladies, ladies, ladies, who wouldn't want to have a scent that triggers optimism and happiness, none the less, one that spritzes out of a beautiful coral shade fragrance bottle? Bvlgari's Omni Coral perfume is romantic and omptimistic, with notes of red berrieswater lily, hibiscus and pomegranate, musk and cedar.
Recently relaunched, and just in at FragranceNet.com, the masculine scent by Dior, Eau Savage, has been re-released this year in a stronger concentration than it's original from 1966. Update the man's fragrance collection with this classic, citrusy scent with a new composition of bergamot at the top, myrrh resin at the heart and dry vetiver in the base. Lovely, to simplify the scent in one word.
And our last pick for fall fragrances we can not resist is...Guerlain's Shalimar Initial L'Eau Guerlain for women. What can we say...this success of this scent continues! This year, Guerlain launched this flanker with a lighter and drier scent, with notes of lily of the valley, fressia, and hyacinth.