4 Gift Sets Dad Can't Live Without
Do we have any last minute shoppers out there? Didn't pick something up for Dad this Father's Day, just yet? No worries, as long as you order a quick gift of ours for your pops before Wednesday, you will get FREE* express shipping and guaranteed delivery for his special day. 
Want to know THE 4 gift sets he probably can't live without? These are the hottest sellers for men who know how to smell good! Get him what he really wants…pamper him with one of these sets.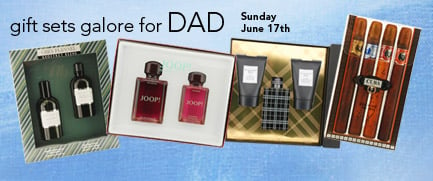 Is your dad a…
MANLY MAN
He'll love our Cuba Variety cologne, get the 4 piece mini variety which comes with cuba gold, red, blue & orange (all at .17oz) OR treat him to the 4 piece variety with cuba gold, blue, red, & orange at 1.17 oz each. These scents are hard to ignore, and your dad is well deserving of that.
OUTDOORSY MAN
Joop! Cologne, there it is! Joop! is the perfect cologne for any stud who loves the outdoors. Camping, fishing, hiking sound like dad? Joop! is the one your dad will love. With fragrance notes of exotic spices & florals, with woods, patchouli and honey, this very masculine scent may be the perfect one for your man.
The PRO-FESSIONAL
Have a hard working, professional papa? Burberry Brit cologne is a great scent for the office, notes including green mandarin, ginger, bergamot, wild roses, cedarwood and nutmeg. Not too strong, this scent is great for a man who wants to smell elegant and classy. It's a nice woody fragrance, not too overpowering subtle and refined, to say the least.
The ROMANTIC
Is your dad always going above and beyond for your mom? For you? Go above and beyond for him this year on his special day with Grey Flannel cologne by Geoffrey Been. The fragrance includes notes of orange, lemon, bergamot, oakmoss, sandalwood, and patchouli. It's the perfect mix of subtle, sexy, and also says "in control".