OSCAR DE LA RENTA – VOLUPTE
Coming right off the back of the powerhouse feminine perfumes of the 1980's (think Dior's Poison, or Giorgio Beverly Hills), in 1992 Oscar de la Renta unleashed his own titanic floral green fragrance Volupte upon the world. Big and sexy, Volupte still possessed the rousing robustness of those feminine scents that had gone before her.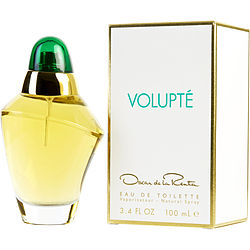 The perfect companion for a slinky dress and heels, Volupte strides around with vampish abandon... a citrus / floral opening composed of mandarin, mimosa, freesia and osmanthus sets the tone for a scent brimming with florets of flowers... its heart beats with carnation, jasmine, muguet and ylang-ylang. It's precisely this blossoming abundance of flowers that gives Volupte her appeal... she is unashamed and out looking for fun. A trail of amber, frankincense, patchouli and sandalwood leaves men swooning in her wake.
Volupte – whilst a revered perfume of the past – also has its place in the here and now. If there were ever an unapologetic temptress that has maintained her sizzling good looks... Volupte stands a head and (bare) shoulders above the rest.