DOLCE AND GABBANA – POUR HOMME
It felt to me like in the long summer of 1994, everyone I knew was wearing Dolce & Gabbana Pour Homme – the first masculine release from the now-iconic Italian fashion house. Today, some 20 years later, it is sadly seldom seen which is unfortunate, as many robust men's fragrances from the 80s and 90s are too often cast aside in favour of our modern proclivity towards scents that are touted as 'fresh and clean'. But this is an extraordinary scent that just wont go away... its universal appeal just sees it keep springing back into fashion! Dolce & Gabbana Pour Homme is a pioneering aromatic-fougere blend. Its characteristic opening of lavendar and citrus feels classic in its approach, but almost instantly a tidal wave of peppercorns wash forth and tingle at the back of the nose. An aromatic facet of sage blends seamlessly into the resolutely masculine backbone of tobacco and cedar. As this bold, sharp and commanding eau de toilette warms on skin, its effects are amplified, perfuming the air around the wearer like a warm cashmere mantle.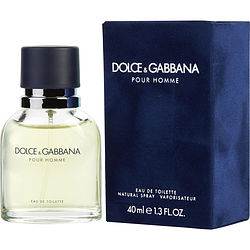 In a world where cookie-cutter aquatic scents are the norm, Dolce & Gabbana Pour Homme is a timely reminder of true artistry in mainstream perfumery. It should be considered a staple of any man who enjoys the sophistication of a scent that can be worn to the office, and the informality of a fragrance to be worn for a night on the town.