Skin Essentials 3 Step System : Purifying Rice Face Wash 6.6 oz + Hydrodrench Moisturizing Gel Cream 1.7 oz + Multi-Effects Eye Cream .5 oz
by Pur Attitude

100% Authentic
Item #
Coupon Price: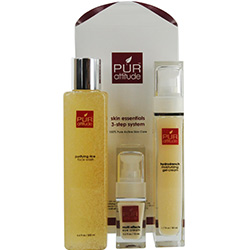 Zoom
skin essentials 3 step system : purifying rice face wash 6.6 oz + hydrodrench moisturizing gel cream 1.7 oz + multi-effects eye cream .5 oz
Free Shipping in U.S. (orders over $59.00)
Design House:

Pur Attitude
No reviews written for this product
I absolutely love these product for many reasons. There are no unsafe additives and they are not watered down, which makes me love the integrity of this company. Most of all I LOVE the face wash. It smells and feels so good and cleans my makeup off (which others never did). I give this product 10 out of 5 stars!!!
Written by Cassi Eubank on June 16, 2015