Eau De Toilette

100% Authentic
Item #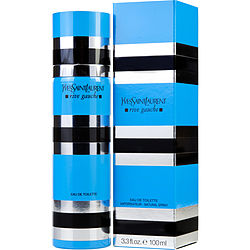 Zoom
eau de toilette spray 1.6 oz
eau de toilette spray 3.3 oz
Free Shipping in U.S. (orders over $59.00)
Design House:

Yves Saint Laurent

Fragrance Notes:

florals, woods and warmth, a classic scent.

Year Introduced:

1971

Recommended Use:

casual
No reviews written for this product
Rive Gauche, I wore it when it first came out in the 70's and LOVED it but I guess time has dulled my senses and now it is nothing like I remembered it. It is overpowering when I first put it on but as it dried it was much more mellow, so I decided to keep it and not send back. I like it but still, it just does not smell like I remembered and not one person has commented on it, so not sure how it comes across....I am sure it is just me because all the reviews I see here are great..anyway I am very happy I found this site and was able to order it finally, I have looked for years,,,thank you!
Written by Anonymous on September 08, 2015
There is something so wonderful about Rive Gauche! I get so many compliments from people, asking me what the scent is and where I get it. Rive Gauche is a scent you can wear anywhere!
Written by Susan on June 14, 2015