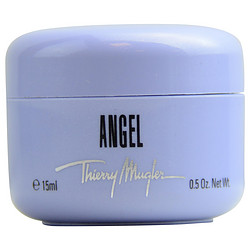 Free Shipping in U.S. (orders over $59.00)
Design House:

Thierry Mugler

Fragrance Notes:

vanilla, sandalwood, and patchouli, with lower notes of fresh citrus, melons, peaches, and plums.

Year Introduced:

1992

Recommended Use:

daytime
No reviews written for this product
My siste re-gifted this to me one Xmas over 10 years ago because her husband didn't like it on her - I've been using it and is B. Oglivieone I use he most. Always get compliments. Love it!
Written by Beverly Oglivie on January 08, 2017
I love Angel by Thierry Mugler. Whenever I wear it, people stop me and tell me how wonderful I smell. I was at the bank, yesterday, and 3 people complimented my fragrance!
Written by Bunny Vreeland on December 08, 2016
Has a very nice smooth scent. It is not as overbearing or as strong as the perfume, therefore, it smells very pleasant on the skin. It is not something I would wear every day, but I do use it a couple of times each week after a shower.
Written by TamiGee on May 18, 2016