Eau De Toilette

100% Authentic
Item #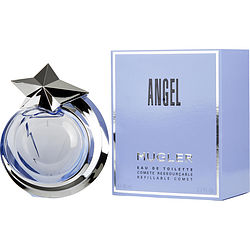 Zoom
eau de toilette spray refillable 2.7 oz
Free Shipping in U.S. (orders over $59.00)
Design House:

Thierry Mugler

Fragrance Notes:

Bergamot, Red Pepper, Pralines, Red Fruits, Vanilla And White Musk.

Year Introduced:

2011

Recommended Use:

casual
No reviews written for this product
This review is for Angel Comet. I am a HUGE fan of the original Angel and have been wearing it for years. In my own opinion Comet has a unique smell and it does and doesn't remind me of the original at all. It's much more of a fresh citrus smell with a lot less projection than it's big sister Angel. Don't get me wrong I really love this scent as I do all of Mugler's perfumes because of the uniqueness of them. It does last a pretty long time and you don't need to spray to much. I think this is pretty work appropriate, of course depending on the office you work in and some may find it to strong. I love strong loud scents and luckily work in a small office so it's not an issue!
Written by loveboxerkisses on December 23, 2014
Every time I wear this fragrance, someone ALWAYS asks what are you wearing??? It is a delicious scent that I intend to keep in my collection.I am a Thierry Mugler Angel junkie & proud of it!!!
Written by yobo on October 09, 2014