Serge Lutens Fleurs d'Oranger
Eau De Parfum
by Serge Lutens

100% Authentic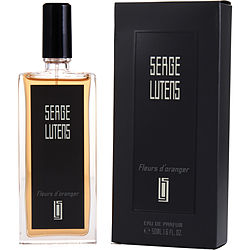 Zoom
Free Shipping in U.S. (orders over $59.00)
Design House:

Serge Lutens

Fragrance Notes:

White Floral, Tuberose, Citrus, And Sweet Accords.

Year Introduced:

2003

Recommended Use:

casual
No reviews written for this product
Fleurs D'Oranger is simply heaven in a bottle. I have several SL, and I cannot live without this one. With Chergui, Datura Noir and Fleurs D'Oranger you won't need another perfume ever again. You will be set.
Written by Mayimo on April 26, 2016
I purchased Fleurs d'Oranger having never smelled it but it is just as I hoped - opening notes of orange blossom that give way to a soft tuberose and slightly spicy clove fragrance. Smells like a summer evening and is a complex but subtle scent. I am enjoying it very much.
Written by Bebe on August 31, 2015
I love this Serge Lutens fragrance! I live in Florida, where the smell of Orange blossoms fill the air when they bloom. It is intoxicatingly beautiful, and this is the only fragrance that captures the experience completely. It lives on your skin all day, and in the morning, I can still smell it! This is a first for me, because I seem to absorb most fragrances pretty quickly. Some fruity fragrances smell down right silly, but this one has sophistication, depth, and complexity. It really is a Five Star Perfume.
Written by Louweezie on April 20, 2015