Eau De Parfum
by Ralph Lauren

100% Authentic
Item #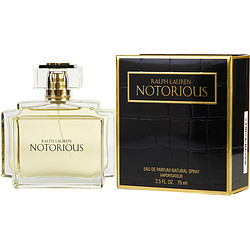 Zoom
eau de parfum mini .25 oz
eau de parfum spray 2.5 oz
Free Shipping in U.S. (orders over $59.00)
Design House:

Ralph Lauren

Fragrance Notes:

iris , pink peppercorn, eature black currant, chocolate cosmos, bergamot, carnation, patchouli musk, white frost peonies, vanilla

Year Introduced:

2008

Recommended Use:

romantic
No reviews written for this product
This is an amazing fragrance. I love everything with chocolate in it and since a friend told me about Notorious,I was in love. Ralph Lauren is the boss y'all!!
Written by Rockin' Robyn....the female one. on November 03, 2015
Notorious is wonderful. The subtle hints of spices & chocolate really brings out the beauty of this fragrance. Too bad the lotion's no longer available. Still love it though. Ralph Lauren is one seriously talented and well respected designer. Thank you sir.
Written by Spice girl on September 04, 2015
I recommended Ralph Lauren's Notorious fragrance to a friend's mother who sweats a lot due to menopause and she's very grateful because she dreads the thought of smelling bad in public. She's even bought herself an extra bottle in case she runs out & now,life just got a whole lot better for her.
Written by An 80's fashionista on June 05, 2015