Eau De Toilette
by Philosophy

100% Authentic
Item #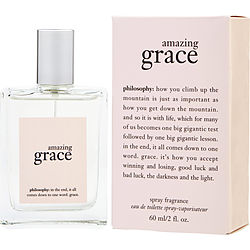 Zoom
eau de toilette spray 2 oz
Free Shipping in U.S. (orders over $59.00)
Design House:

Philosophy

Fragrance Notes:

White Musk, Soft Floral Blossoms, Citrus Notes

Year Introduced:

2003

Recommended Use:

evening
No reviews written for this product
Amazing Grace is wonderful! It is a very clean soft scent. I apply the body cream and a very light spray of the Eau De Toilette spray in the morning after my shower. When I come home from work in the evening my husband tells me I smell really good. Nice and clean and fresh. That is a very nice compliment after a long hard day at work.
Written by PJ on October 07, 2015
Soft with a gentle peppery note, I was given a bag of fragrances from my late aunt and the little box was tucked in with a ton of of "Red Door" - which I didn't care for, but I kept the little box. One day, out of curiosity, I applied Grace as I was hurriedly getting out the door. I LOVE it! It's a soft, summery scent that just floats along with you; it gives a feeling of comfort when everything around you is Chaos! I think if you're a very busy woman, or a Mom on the go, this would be the ideal fragrance to wear in the spring and summer months.
Written by Rhae Camdyn on June 23, 2015