Eau De Parfum
by Perry Ellis

100% Authentic
Item #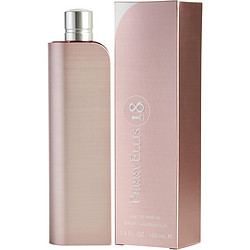 Zoom
eau de parfum spray 3.4 oz
Free Shipping in U.S. (orders over $59.00)
Design House:

Perry Ellis

Fragrance Notes:

Floral fragrance

Year Introduced:

2006

Recommended Use:

daytime
No reviews written for this product
Whoa ho ho ho,I'm a born again Perry Ellis fan!! 18 is so smooth and enticing,and I agree with all the reviews here,it's fresh,young & long lasting. It can even be used for a night out too. 360 was my thing a long time ago,still is,but now I've got another favorite in 18. If you haven't tried this one yet,you really should. Highly,positively recommended.
Written by number1fan on September 27, 2015
What a beautiful and uplifting fragrance. Perry Ellis is a true genius when it comes to his fragrances and 18 is definitely on top with all of them. I,too,feel confident & womanly when wearing it and the compliments are always positive! I think I'll be aiming for a bigger bottle or the gift set on my next purchase.
Written by Valley girl on May 06, 2015
I just love the smell. I get a lot of compliments on how I smell. from men and women and it last all-day and more . You can also smell it in your clothes when your take them off. I would love to know if there is a lotion to this perfume. I just love the smell of Perry Ellis 18
Written by Anonymous on December 22, 2014