Eau De Toilette

100% Authentic
Item #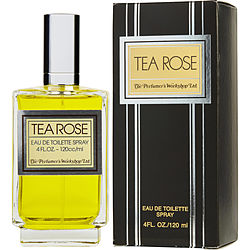 Zoom
eau de toilette spray 4 oz
Free Shipping in U.S. (orders over $59.00)
Design House:

Perfumers Workshop

Fragrance Notes:

spicy, warm florals.

Year Introduced:

1975

Recommended Use:

evening
No reviews written for this product
Have never owned any rose smelling perfume. Tea Rose is wonderful. Smells good on me and smells good on my clothes. I just love it. What a great decision to purchase this product. Definitely recommend. Got it a week ago. Will never be without again !!!!!!
Written by Cheryl on October 01, 2015
Tea Rose is an excellent product to wear to work everyday. People generally enjoy the smell and always what i am wearing -- just a little goes a long time and remains all day.
Written by Marjorie on September 30, 2015
This scent is reminsence of my youth. It was like those scents the ladies in my church wore. Not overwhelming but staying power is suductive. I'd never smelled it before but now I'm hooked!
Written by Angela P-G, Macon, GA on September 16, 2015
Perfumer' s Workshop Tea Rose is still incredible! I wore this back in the day, and always felt beautiful and happy when I wore it. What more can you ask from a perfume? Smells exactly like a huge florist' s bouquet of long-stemmed roses....And if it makes any sense these roses smell pink! I like wearing a simple perfume sometimes....not every scent has to be challenging and controversial. Sometimes you just want a strong, lasting perfume that doesn't cost half a week's salary! And that makes you feel happy and beautiful.
Written by CeeCee474 on August 16, 2015