Eau De Parfum
by Paris Hilton

100% Authentic
Item #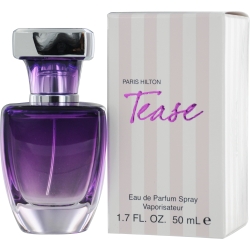 Zoom
eau de parfum spray 1.7 oz
eau de parfum spray 3.4 oz
Free Shipping in U.S. (orders over $59.00)
Design House:

Paris Hilton

Fragrance Notes:

Apples, Peaches, Bergamot, White Flowers, Amber And Hot Sand.

Year Introduced:

2010

Recommended Use:

casual
No reviews written for this product
I just received this yesterday and really like it. I bought it because I've enjoyed Heiress and Fairy Dust and another review compared it to Michael Kors Very Hollywood, a scent I like, but which is much more pricey. Tease is very nice - I like the notes of apple and white flowers. It's more subtle than the Michael Kors scent, but definitely similar. It's flowery, but fresh and not overpowering at all. I will buy this again.
Written by Lisa from Amherst, New York on September 20, 2015
I love this tease fragrance by Paris Hilton very much. It's very feminine and fruity,not too sweet and the drydown has good lasting power when used with the lotion. I would also like to know when is her new fragrance "With love" coming out. I can't wait to try that one as well.
Written by Anonymous on July 21, 2015
It is very similar to MK Very Hollywood, but with a little bit of a "bite" to it. Must be the "sand" component. It is a very nice fragrance, opening is strong and the dry down is comforting and warm. If you like MK Very Hollywood at a much better price, with much better staying power, you'll love this. I bought 1 oz just to try and validate that it is similar to Very Hollywood and it sure is.
Written by Ania on March 10, 2015