Eau De Parfum
by Paris Hilton

100% Authentic
Item #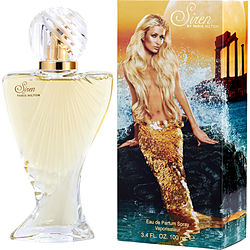 Zoom
eau de parfum roll on mini .34 oz
eau de parfum spray 1.7 oz
eau de parfum spray 3.4 oz
eau de parfum spray mini .25 oz
Free Shipping in U.S. (orders over $59.00)
Design House:

Paris Hilton

Fragrance Notes:

frangipani, Florals, creamy musk, mandarin, water lily, sandalwood, coconut orchid, apricot nectar, vanilla, honeysuckle

Year Introduced:

2009

Recommended Use:

casual
No reviews written for this product
I had only three fragrances that I would use, oldie but goodie Charlie, White Diamonds, or Vanderbuilt. For my taste . Then one day my daughter ca me over and the scent she. Was wearing was mesmerizing. After she left I went into kitchen where she had been, and I smelled that scent. Not strong very sutle. CHRISTMAS comes around and one of my gifts from her was SIREN PARIS HILTON. It is now my favorite number one scent. Getting on the elevator at my apartment building the other day, the couple getting off said" oh my you smell so good " . Best complement you could get. I have always been a scent person. Part of daily routine. This is now my number one scent " SIREN PARIS HILTON " I might add I am 63 years old but feel like 20s.
Written by Sandy on March 18, 2015
My husband bought me a small bottle of Siren at a department store , he thought it had a nice smell. At first smell from the bottle , I was skeptical that it would work for me. I was wrong , it's one of two fragrances I love right now. It's soft , spicy and inviting. I get lots of compliments when I wear Siren.
Written by TP, Madison, Wi on December 20, 2014