Eau De Parfum
by Modigliani

100% Authentic
Item #
Coupon Price: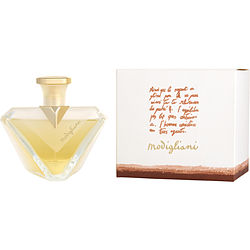 Zoom
eau de parfum spray 3.4 oz
Free Shipping in U.S. (orders over $59.00)
Design House:

Modigliani

Fragrance Notes:

ylang ylang, jasmine, mandarin, vanilla, orange blossom, honey, cananga, patchouli, bergamot, cedar, musk, and benzoin.

Year Introduced:

1994

Recommended Use:

casual
No reviews written for this product
Modigliani is a wonderful parfum according to my wife. I can atest to that, because it drive me crazy when she wears it. I randomly chose this fragrance, at fragrancenet, never knew anything about it other than other people's review. It was a set, consisting of a big bottle, other minis, lotion and shower gel, i think. The big fancy box it came with looks like a million dollar. My wife sprayed it on her wrist just once, and fell in love. She continues to use the products from the box. She never want to part with it. We were surprised when i couldn't find it for some time. I am glad i found it albeit it was a single bottle. I will surprise her when the time comes. She love it a lot.
Written by Asete on November 06, 2015