Eau De Parfum

100% Authentic
Item #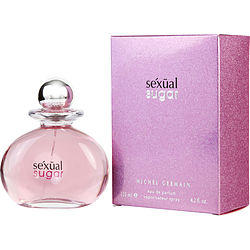 Zoom
eau de parfum spray 2.5 oz Tester
eau de parfum spray 4.2 oz
Free Shipping in U.S. (orders over $59.00)
Design House:

Michel Germain

Fragrance Notes:

Wild Berries, Sugar, Vanilla, Roasted Almond, Passion Flower And Orange.

Recommended Use:

casual
No reviews written for this product
Sexual sugar is the most amazing scent I've ever encountered. Michael Germain is brilliant . Sexual sugar is so intense it brings out your inner soul like it almost drives you crazy cause the smell is so sexy and it makes people go nuts they ask me what is that scent you are wearing I need that . I've had people chase me down to find out what perfume I was wearing. It goes with your body pheromones it actually brings out that natural smell that makes you so desirable I love like I want to eat it... It's that amazing its a must buy. I will never try a different smell I am hooked on it ...
Written by serena kings on November 07, 2015
This is a fun scent to wear. This is not a scent i can't live without but it's fun to have to change things up from time to time. I wouldn't say its a night out on the town scent however fun for the day.
Written by Anonymous on April 07, 2015