Eau De Parfum
by Mariah Carey

100% Authentic
Item #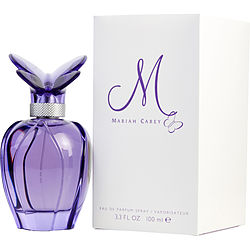 Zoom
eau de parfum spray 1.7 oz
eau de parfum spray 3.3 oz
Free Shipping in U.S. (orders over $59.00)
Design House:

Mariah Carey

Fragrance Notes:

Tahitian Tiare, Gardenia, Amber, Marshmallow, "Sea Breeze" accord, Patchouli, Moroccan incense

Year Introduced:

2007

Recommended Use:

evening
No reviews written for this product
M by Mariah Carey was a big disappointment for me. I gave it 2 "stars" because the packaging is cute. Honestly to me and my friends, we couldn't barely smell anything st all but a slight hairspray odor. Sorry Mariah! It might be ideal for someone with perfume sensitivity or allergies. Love the Lollipop line though!
Written by Odette on August 02, 2015
This fragrance was perfect balance, wasn't to powerful but was very complimentary to my bodies chemicals. I LOVE IT only one I wear now took me 20 yrs to find the perfect one for me and well i did and i will always buy this one ........"M" purple bottle only :) i wear this every day to work or out on the town.
Written by Kathy on May 07, 2015