Eau De Parfum
by Laura Ashley

100% Authentic
Item #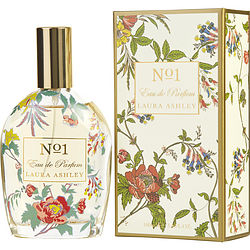 Zoom
eau de parfum spray 3.4 oz
Free Shipping in U.S. (orders over $59.00)
Design House:

Laura Ashley

Fragrance Notes:

Musk, Carnation, Jasmine, African Orange Flower, Gardenia

Year Introduced:

1989
No reviews written for this product
I was thrilled to find this at such a good price...I am a former Laura Ashley employee and was very unhappy when it was discontinued years ago........When it was reissued in 2012 I wanted it but it was very expensive........There is a very slight difference between the original and the reissue but I can live with that.I hope you will be getting more in stock.
Written by Cheri on August 20, 2015
Laura Ashley #1 is just a lovely, feminine, delicate fragrance. It is extremely inexpensive on Fragrancenet and that delights me as I can go wild with it. I love to wear it and I do receive many compliments. To mean it softly says 'it's Spring and Summer' let me show you the delights of these seasons. I spray my bed linens with it, a few sprays in the closet where I keep the bath towels. I even spritz the lace panels in my bedroom. It always leaves me feeling fresh, clean, and ultra feminine.
Written by Snowball on June 16, 2015