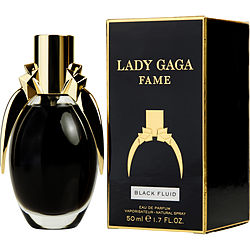 eau de parfum roll-on mini .34 oz
eau de parfum spray 1.7 oz
eau de parfum spray 3.4 oz
Free Shipping in U.S. (orders over $59.00)
Design House:

Lady Gaga

Fragrance Notes:

Belladonna, Orchid, Saffron, Incense, Honey, And Apricot.

Year Introduced:

2012
No reviews written for this product
Lady Gaga Fame is subtle, yet very intoxicating. Every time I wear it, I get compliments. My sister, who is very picky about her fragrances, even loves it. A great anytime, anyone scent.
Written by LMB on June 23, 2015
Read Review details ►
Lady Ga Ga Fame I love this perfume. The fragrance is a delicate sexy scent that is not overpowering. You want to go back for more. On top of that the bottle is intriguing, reminds me of a love potion. What is even more interesting the color of the parfume is black but it doesn't leave stain. Magical...
Written by R Laws, South Carolina on June 21, 2015
Read Review details ►
Lady Gaga's. Fame is what I buy my daughter. It's what she wears every day / night. . It smells so beautiful on her and gets so many complements. I am just so happy it is her scent. Thank you Lady Gaga , for making such a wonderful beautiful product.
Written by Becky - New Orleans on June 19, 2015
Read Review details ►
Lady Gaga Fame perfume smells delicious! It's the best way to put it. I was hesitant to buy it but it certainly did not disappoint. Whenever I wear this people ask me what scent it is. They are always surprised to find out it's Lady Gaga. I first purchased it 2 years ago and it remains one of my favorites
Written by Mazi on February 05, 2015
Read Review details ►