Eau De Parfum

100% Authentic
Item #
Coupon Price: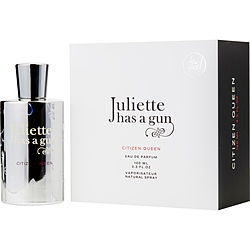 Zoom
eau de parfum spray 1.7 oz
eau de parfum spray 3.4 oz
Free Shipping in U.S. (orders over $59.00)
Design House:

Juliette Has A Gun

Fragrance Notes:

Chypre notes, bergamot, oakmoss, Aldehydes, cistus-labdanum, Animalic notes patchouli

Year Introduced:

2008

Recommended Use:

casual
No reviews written for this product
Bought this unsniffed, based on reviews online. A very powdery fragrance, but not too old fashioned. VERY intense at first, but dries down to a gorgeous feminine scent, that reminds me of a more modern interpretation of Shalimar. I'm not crazy about the first half hour or so, as it's intensely sweet, but after that it's beautiful. A nod to classic perfumery that stays in the here and now. I recommend.
Written by M on October 31, 2015
I bought Citizen Queen untested, and I'm glad I did. I don't think a quick spritz would have sold me. I don't even care for it, the first fifteen minutes, but after that, it just gets better and better. I don't know how long this will last, but I can still smell it in the morning, after wearing it the night before. It's been at least ten hours, now, and it's a beautiful, soft, flowery-powdery-expensive soap, scent. It's clean and elegant. Citizen Queen is a very appropriate name. Juliette Has a Gun has renewed my enthusiasm for perfume. I love the way it stays close. No one will be suffocated in an elevator from another passenger wearing this, but hugs will be extended. Citizen Queen reminds me of a more adult, closer lying version' of Love In White, without the 'greens
Written by NikkiS on February 13, 2015