Eau De Parfum

100% Authentic
Item #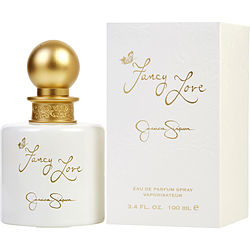 Zoom
eau de parfum spray 1.7 oz
eau de parfum spray 3.4 oz
eau de parfum spray 3.4 oz Tester
Free Shipping in U.S. (orders over $59.00)
Design House:

Jessica Simpson

Fragrance Notes:

peach blossom, goji leaf, jasmine, blush champagne, lotus blossom, plumeria, rose, creamy amber, musk, patchouli, bergamot, peony, blonde woods

Year Introduced:

2009

Recommended Use:

casual
No reviews written for this product
I too am one of those people that can't wear just any cologne, so I was thrilled when I found Fancy Love, by Jessica Simpson. Just a wonderful, fresh, clean scent. I also have people asking what I am wearing, I'm happy to advertise Fancy Love. The Fancy Love Body Lotion is also a winner, great on my skin.
Written by JoAn on November 08, 2015
Not being one who can wear many perfumes because they're too strong, FANCY LOVE I absolutely LOVE!!! I get compliments and questions from total strangers all the time asking what I'm wearing. :)
Written by Louanne on September 24, 2015
I received Jessica simpson's Fancy Love as a gift and thank God I did. I love it so much and have received compliments on how good it smells. The beautiful scent stays on my clothes for days, sometimes even after they're washed, so it quickly becomes a scent that reminds ppl of you. It's not strong (I hate strong scents bc they choke me) and not so light that you can't smell it. Just perfect!
Written by Ama on July 02, 2015