Eau De Parfum Spray 3.4 oz & Body Lotion 5 oz

100% Authentic
Item #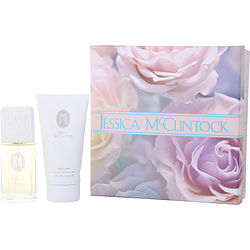 Zoom
eau de parfum spray 3.4 oz & body lotion 5 oz
Free Shipping in U.S. (orders over $59.00)
Design House:

Jessica Mcclintock

Fragrance Notes:

citrus notes of lemon, along with basil, white rose, and white jasmine.

Year Introduced:

1987

Recommended Use:

daytime
No reviews written for this product
I have been wearing Jessica McClintock perfume for 27 years now and will continue wearing until I can be smelled with compliments of how good I smell everywhere I go. Men and women would notice the sweet flowery subtle smell of Jessica, that they would ask what I'm wearing. The only brand that I spray in my body without sneezing and feeling dizzy. Great perfume creation.
Written by Tessong on September 10, 2015
The first time I smelt Jessica McClintock was 30 years ago. I bought two gifts sets for myself. I have't been able to find it sence!!!! I was cruising the net and there it is !!! Can't wait to get it ! I have hung on to the empty bottle for 30 years just to smell the fragrance. LOL I will never let it go!!
Written by Jonilynn on September 03, 2015
fav scent, For a everyday wear never dull a light white jasmine , honey suckle sweet scented fragrance my fav is "Jessica McClinton" and i also lov to wear "white shoulders" fragrance" its wonderful ....
Written by Tammy Lynn on December 31, 2014