Eau De Parfum
WFor Women
Item #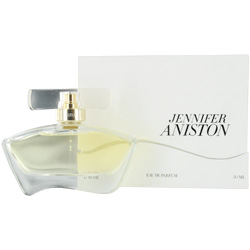 eau de parfum spray 1.7 oz Tester
eau de parfum spray 2.9 oz
Free Shipping in U.S. (orders over $59.00)
Design House:

Jennifer Aniston

Fragrance Notes:

jasmine and musk

Year Introduced:

2011

Recommended Use:

casual
No reviews written for this product
I love this fragrance. It is soft, feminine, and not overpowering. It is sweet, but not sickeningly sweet. It has flowery tones that remind me of lily-of-the-valley blossoms. I wish it lasted a little longer, at least so that I noticed it more at the end of the day, but I'd prefer that it be a subtle scent rather than the choking scent that many other musky perfumes geared have.
Written by StefferKat on August 02, 2015
Read Review details ►
I've loved this perfume since it first hit the scene. Jasmine is one of my favorite flowers. I even grow it in my garden. And Jennifer Aniston EDP has a definite Jasmine going on. I'm not sure Jennifer Aniston can do anything but great. LOVE her and her products!!!! Mary Kelly
Written by heartsdelight on July 02, 2015
Read Review details ►
I adore this scent. I am ordering my second bottle. I wear it alone and often combine it with Carolina Herrera ( the first one of hers in the polka dot box) and they wear so well together. I am constantly being asked what scent I am wearing.
Written by EXCUSE ME.....WHAT ARE YOU WEARING????? on June 26, 2015
Read Review details ►
Jennifer Aniston has become one of my wife's favorite perfumes. This is a no-brainer when it comes to buying perfume as a gift for her. My daughters and granddaughters even like the scent. The scent could last longer, but it is perfect for a night out.
Written by Chuck on April 23, 2015
Read Review details ►