Jean Paul Gaultier Classique X
Eau De Toilette

100% Authentic
Item #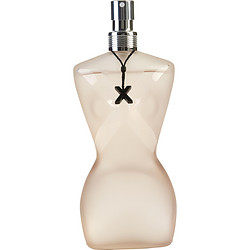 Zoom
eau de toilette spray (collection) 3.4 oz Tester
Free Shipping in U.S. (orders over $59.00)
Design House:

Jean Paul Gaultier

Fragrance Notes:

iris, cedarwood, bergamot, peony, orange blossom, mandarin, vanilla

Year Introduced:

2010

Recommended Use:

daytime
No reviews written for this product
when my wife wears this, it is unique from other scents like channel and dior, this does the trick, i have to be closer to her so i can smell her when she puts this on. It will drive men crazy.
Written by bb on July 19, 2015
Jean Paul Gaultier Classique X....HAVE BEEN USING IT FOR YEARS ...PURCHASED IT THE FIRST TIME ON A CRUISE SHIP.. Been using it as a body spray ever since... Love the scent!.. HIGHLY RECOMMEND IT..
Written by MARYSUE on February 24, 2015
LOVE John Paul Gaultier Classic X. This scent I LOVE! It's a bit pricey but worth it. Not too sweet, not too perfumey. It really doesn't smell like anything I've ever smelled before. Love the way it makes me feel too when I wear it...
Written by Kim Carson on September 29, 2014