Eau De Parfum
by Jean Patou

100% Authentic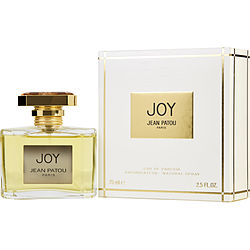 Zoom
Free Shipping in U.S. (orders over $59.00)
Design House:

Jean Patou

Fragrance Notes:

rare oils including jasmine and rose, a classic fragrance.

Year Introduced:

1930

Recommended Use:

evening
No reviews written for this product
This is the first time I've ever ordered Joy. I can't explain the scent. To me, it is somewhere between Natural, Floral, and Oriental/Spicy. It is a little strong when you first put it on, but tames down as time goes by and leaves a more pleasant scent. It reminds me a little of White Shoulders, but stronger with a hint of Floral and Spiciness to it. I can't say that this is one of my favorite perfumes. Perhaps it reminds of a perfume for those who hold dear, of long ago, some very precious memories.
Written by TamiGee on May 14, 2016
Joy is a timeless fragrance, just right for my own skin chemistry. I absolutely love the perfume -- haven't been able to find anything quite like it. It is pricey and so I always search for sales.
Written by Aya on April 01, 2016
I bought this as a gift for my mother. The deal was out of this world! Coyldnt find a better price anywhere else. Shipping was fast too! The packaging ( i ordered without the box) was very secure. Great site to order from. I have already recommended to many friends and coworkers.
Written by Nennilefay on December 08, 2015
Just tried this for the first time...perfection! I am so weary of modern scents that are start out with great openings, but disintegrate into a watery, sour odor that I can't wait to scrub off. This is floral perfection.
Written by Toni on October 27, 2015