Eau De Parfum
by Hilary Duff

100% Authentic
Item #
Coupon Price: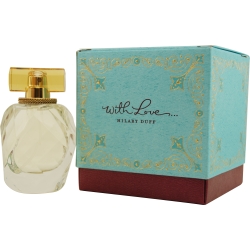 Zoom
eau de parfum spray 1.7 oz
Free Shipping in U.S. (orders over $59.00)
Design House:

Hilary Duff

Fragrance Notes:

Milk, Fruit, Mangosteen, Musk, Flower, Exotic Spices, Amber, Cocobolo Wood

Year Introduced:

2006

Recommended Use:

casual
No reviews written for this product
I love this perfume I have been wearing it for 10 years now n everyone ask me what r u wearing n I tell them Hillary duff. So buy it n u will love it it is so so hard to buy now I been buying it at USA n getting it sent over to nsw.
Written by Melissa Leonard 24 August 2015 on August 24, 2015
Hi I have been wearing Hillary duff for 10 years now it is so nice I have to wear it everyday, everyone ask me what r u wearing n I tell them n they say it's so nice. I am telling u u will love it try it n u won't use any other purfume but Hillary duff.
Written by Melissa Leonard 22 August 2015 on August 23, 2015
I am in love with With Love by Hilary Duff! I have been wearing this fragrance for 8 plus years and still receive compliments and questions about it. It also has a woodsy scent to the spicy, fruity notes that I just adore. It smells like a very expensive high-end perfume...highly recommend anyone to give it a try!
Written by Kristina Harris on September 21, 2014