Eau De Parfum

100% Authentic
Item #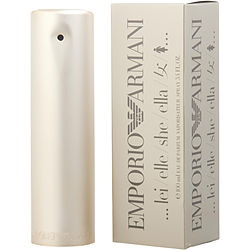 Zoom
eau de parfum spray 1.7 oz
eau de parfum spray 1.7 oz Unboxed
eau de parfum spray 3.4 oz
Free Shipping in U.S. (orders over $59.00)
Design House:

Giorgio Armani

Fragrance Notes:

fruit, jasmine, heliotrope, with low notes of cedar, vanilla and musk.

Year Introduced:

1998

Recommended Use:

evening
No reviews written for this product
My husband bought Emporio Armainia fragrance for me as a surprise gift....we both love it...it has a very sensual, soft, sexy scent. I would highly recommend it. I don't care for flowery perfumes and this has such a soft scent, buy it, you wont be disappointed
Written by happy in Montana on September 05, 2015
Emporio Armani my favorite and only for over 15 yrs. I have bought many but the only one I have ever been able to wear to to my migraines and I hope I can wear it forever! I get compliments everyday that I am out someone stops me to ask what I am wearing and I love it and proudly tell them! My husband keeps me stocked up for every holiday he to is afraid it will be discontinued and both of us will be disappointed! He loves how it smells on me and all the compliments I gets too! Please keep it coming for all of your dedicated buyers!! Love lots of Armani products for my daughters and sons also!!! Thanks again!!
Written by Rhonda Herrmann on August 28, 2015
Elle (Emporio Armani) is a playful, young and sensual perfume. It make you feel great in any occasion. I wouldn't recommend for a black tie occasion though. But for every day work and an evening with friends in a trendy bar is perfect.
Written by Ana on February 18, 2015
I first encountered Emporio Armani as a free sample from a shop in Sicily. I'm very sensitive to scents and get a headache from most. After returning to the States I realized that this fragrance is awesome! Subtle, sexy, soft, sophisticated. Yet totally unoffensive for those irritated by scents. I was happy to find it here, and will keep reordering as long as it is carried.
Written by Anonymous on January 08, 2015
I love the fragrance of Emporio Armaini...I have used it for years and I hope it never goes off the market. I always get complements when I wear it and I wear it all the time. PLEASE keep in on the market. jefrank
Written by Anonymous on October 20, 2014