Eau De Parfum

100% Authentic
Item #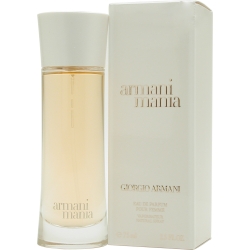 Zoom
eau de parfum (white box) mini .14 oz
eau de parfum spray (white box) 2.5 oz
Free Shipping in U.S. (orders over $59.00)
Design House:

Giorgio Armani

Fragrance Notes:

Sandalwood, Vanilla, Moroccan bay leaf, Black Currant, Pink Pepper, Magnolia, Peony, Virginia Cedar, Amber, Orange, Musk

Year Introduced:

2004

Recommended Use:

daytime
No reviews written for this product
This is certainly one of my favorite fragrances! You can wear this anytime and anywhere. It is a beautiful scent which makes me feel pretty and confident whenever I wear it. I highly recommend this perfume.
Written by Hollie on August 31, 2015
This is my all time favorite fragrance. I wear it for EVERYTHING every day and always get comments from men and women about how wonderful it smells - from people I know and from absolute strangers. It's a very sexy scent.
Written by Renee in OC on August 12, 2015
Armani Mania has a very lovely scent. I personally do not wear it but I purchase it for my best friend. It smells very nice on her with a scent that is not over bearing since I am very sensistive to perfumes. She tells me that she is complimented on it everytime she wears it and that the scent lasts a long time.
Written by Gigi on August 04, 2015